At home with Thomas Demand
Photographer, sculptor and master of the 3D paper model Thomas Demand talks life lessons, life-changing art, and previews his architectural collaboration at Kvadrat HQ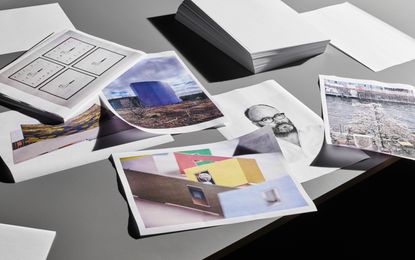 (Image credit: Thomas Demand)
At first glance, Thomas Demand's process may not be detectable, but look closer and you'll realise his intricate scenes are constructed entirely from paper. The starting point is a pre-existing image, often culled from media coverage of a specific event, such as a diving board that nods to the controversial 1936 Olympics in Berlin, or the Russian hotel hideout of American whistleblower Edward Snowden.
In his more recent work, Demand has turned to the everyday – unopened mail or plastic cups for example – offering a personal counterpoint to previous monumental, narrative-heavy works. The process remains the same; an image is reconstructed as a life-size facsimile that is photographed, and then, crucially, destroyed.
The first of two recent books from Demand (both published by Mack) encapsulates his touring retrospective exhibition, on view at UCCA Edge, Shanghai until 4 September 2022. The Stutter of History is an extensive catalogue of his 25-year oeuvre, exploring the representation of history and an image-saturated culture. The second title, Mundo de Papel, co-published with Fundación Botín, is Demand's most ambitious book project to date, for which he has engineered ingenious paper pop-ups to explore the tension between representation and reality.
Here, as part of our 'At home with' interview series, Demand discusses life lessons, life-changing art and more from his Berlin home.
At Home with Thomas DemandWallpaper*: Where are you at the moment and what can you see? W*: What are you reading, and what do you think of it?
Thomas Demand: In my house in Berlin, marvelling at how Berlin managed to have Hanami without colour: all trees seem to be blossoming in grey.
TD: I am trying to read Philippe Descola's Les formes du visible, but my French is too lousy. Thinking about getting French lessons.
W*: If you weren't an artist, what would you have been?W*: What bores you?
TD: Formula One driver, I believe.
TD: Cars, football, Zoom meetings.
W*: Has a work of art ever changed your life?W*: What are you most proud of?
TD: Yes, Marcel Broodthaers' plastic plaques, which I saw at a friend's house when I was 12.
TD: To have an audience for my efforts.
W*: What have you learnt from success?W*: What have you learnt from failure? W*: Who is your dream collaborator?
TD: To watch carefully how things fly.
TD: To watch carefully how things fall.
TD: [Japanese architect] Kazuyo Sejima.
W* What one piece of advice would you give? W*: Do you keep a notebook or diary?W*: How do you switch off?
TD: To keep the ball low.
TD: No diary, but a notebook. I try to draw daily.
TD: Swimming
W*: What's next?
TD: Finishing the three small buildings for Kvadrat in Denmark which I was commissioned for [The Triple Folly]. They are quite far in progress, and we hope over the summer we can add all the small details which I designed as well, such as the door handles, chairs, lights, etc. It is a very special moment for me to see this project completed
Information
'Thomas Demand: The Stutter of History' is at UCCA Edge, Shanghai until 4 September 2022, ucca.org.cn. The accompanying book is published by Mack, £50, mackbooks.co.uk
Mundo de Papel, with text by Mario Vargas Llosa, is published by Mack and Fundación Botín, £100. fundacionbotin.org
Receive our daily digest of inspiration, escapism and design stories from around the world direct to your inbox
As Photography Editor at Wallpaper*, Sophie Gladstone commissions across fashion, interiors, architecture, travel, art, entertaining, beauty & grooming, watches & jewellery, transport and technology. Gladstone also writes about and researches contemporary photography. Alongside her creative commissioning process, she continues her art practice as a photographer, for which she was recently nominated for the Foam Paul Huf Award. And in recognition of her work to date, listed by the British Journal of Photography as 'One to Watch'.