Artist's Palate: Tobias Rehberger's grandma's roast pork with dumplings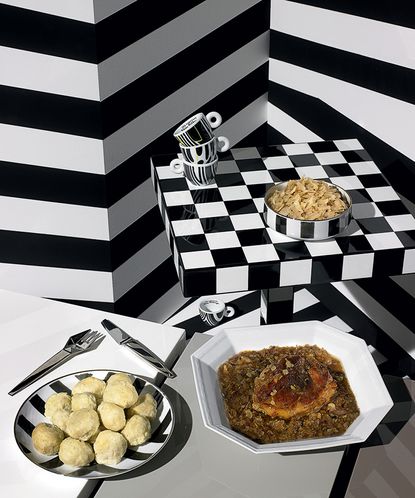 (Image credit: Beate Sonnenberg)
We love Tobias Rehberger. We love the colours. We love the stripes. We love the bold graphics and hurtling shapes. We love the seasick-inducing over-stimulation of our senses and we love his new exhibition, 'Home and Away and Outside', at the Schirn Kunsthalle, Frankfurt. (Although you may need an aspirin to get through the first room, inspired by nautical camouflage.) Clearly, the German-born, Golden Lion-winning sculptor and installation artist loves his grandma, whose pork neck with caraway seeds and dumplings is as German as a ß. His grandma would cook for large groups of people but never eat with the rest of them – she liked to serve up and fall asleep in a corner to the sound of her family eating her food. So now we love his grandma too.

Ingredients
1.2kg bone-free pork neck
400g onions
salt
4 garlic cloves
1-2 tbs caraway seeds
750g floury potatoes, skin on
100-150g flour

Method
Slice the pork neck into 5-6cm thick slices. Put in cold water and bring to the boil, then simmer slowly for 10 mins. Drain, rinse and cover with new salted water, and cook for 30 mins. Preheat the oven to 1800C. Dice onions and slice garlic finely. Take out the pork (but keep the water), place in a roasting tin and cover with garlic and onions. Add about 100ml of the cooking water, and cook for 10 mins. Sprinkle with caraway seeds, and lower temperature to 1400C. Add another 250ml of cooking water and cook for 3.5-4 hrs. For dumplings, boil floury potatoes in salted water, peel and mash by hand. Add salt and enough flour to form dumplings (6-7cm diameter) but do not knead. Boil in simmering water for 20-25 mins.

Can be served with warm coleslaw. Remove the stalk and stem from a white cabbage and slice into thin strips. Sweat in a pot with clarified butter, then deglaze with water. Add salt, a little vinegar, sugar and caraway seeds. Cover and steam. Finely dice some white bacon and fry until golden brown. Season the cabbage with salt, pepper and vinegar and add the bacon and fat from the pan.
INFORMATION
Photography: Beate Sonnenberg. Interiors: Maria Sobrino