Turin fair Artissima reconciles desire and censorship
From the power of image to algorithmic control and the impulses that shape our times, the 26th edition of Artissima explored the boundaries between permitted and prohibited content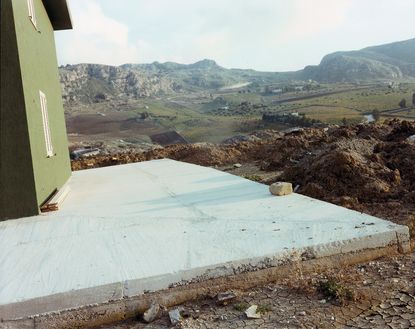 (Image credit: Courtesy of Viasaterna)
'It's the biggest of the small fairs, and the smallest of the big fairs,' quips Artissima director Ilaria Bonacossa as we shuffle onto a bench on the fringes of the Oval Lingotto Fiere. It's the first public day of the Turin art fair – coincidentally All Saints' Day in Italy – and the warren of booths is heaving with visitors and the odd canine companion. We've managed to find some quiet in the drone of the cavernous main hall; the building, a 20,000 sq m glass pavilion at the centre of the Lingotto district, was originally erected to host speed skating events at the 2006 Winter Olympics.

Now under the third year of Bonacossa's stewardship, Artissima tallied a record 55,000 visitors at its 2018 edition. The fair's make-up is heavily dominated by European galleries (170 in all, of which 79 hail from Italy), with smaller contingents represented by Asia (18), the Americas (16) and Africa (4). The fair's typology puts it in a 'peculiar position', says Bonacossa. 'It's not about galleries who are just in the game for the market, but who are in the game of constructing [artists'] careers.'
Of the fair's seven sections, three are curator-led including a strong outing from Back to the Future (coordinated by GAMeC director Lorenza Giusti), which focuses on the rediscovery of pioneers of contemporary art. It's not like we've forgotten the always-brilliant William Wegman, though always appreciate an occasion to peer into his wonderful world of Weimeraners, this time by way of artist drawings at Paris' Florence Loewy. Also good was Budapest-based Acb Gallery's presentation of Endre Tót's Lay-out paintings (1988–1991): the punchy, geometric canvases nod to 1980s industrial design (from floppy disks to a Ferrari Tettarossa) and visual layouts of magazines and newspapers.
Established: 1994
Fair director: Ilaria Bonacossa (2017 – present)
Exhibitors: 208 galleries from 43 countries in 2019
Projects: Over 50 curators and museum directors involved in the prize juries and special initiatives
In the main section of the fair, American artist Melissa McGill's Venice Biennale project Red Regatta set sail for Turin, where Mazzoleni staged a monographic display of photographs and hand-painted sailcloth works. Galerie Rolando Anselmi had a simply sublime pastel canvas by Gianni Pelligrini, while Visaterna had a strong booth with works by photographers Guido Guidi, Takashi Homma and Lorenzo Vitturi. And it was impossible to miss Muhannad Shono's dramatic black PVC pipe installation, which completely engulfed Jeddah gallery ATHR, part of Artissima's newly launched Hub Middle East programme.

Historically, says Bonacossa, galleries have used Artissima as a launchpad for their international careers. 'We can really look at the proposal and it's not about power in the art world – if you're in or out. It's about the quality of your artists and what you're presenting. [The fair] really lets newcomers in, which is what the system needs.' The New Entries section, dedicated to emerging galleries, welcomed 20 exhibitors to the fold. Ballon Rouge Collective was promising, with works by Carmen Argote and Bruna Canepa, while Marta Mancini's gestural paintings in dialogue with Mario Cresci at Matèria was quietly surprising.
A risqué business
Bonacossa's curatorial pedigree is evident, having previously held positions at the Fondazione Sandretto Re Rebaudengo in Turin and Museo Villa Croce in Genova. For one, the fair and peripheral initiatives are bow-tied with a theme. For the 26th Artissima, it's the duality of desire and censorship. It seemed an unusually provocative directive for a commercial fair, so I ask why. Bonacossa reveals after last year's edition she felt the world was becoming 'an anxiety-filled place'.
The director has been trying to navigate the culture shift both personally (she was asked to cover up her young daughter in a public pool) and professionally (Facebook blocked a promotional video for Artissima online, first for its allegedly contentious title, which included the words 'desire and censorship', then again for 'implicit' nudity after the fair appealed). The message is confused, however. Now, 'everyone is censoring themselves and each other just to be safe'.

The representation of the human body, once celebrated unabashedly in art (and European newspapers until not too long ago), has become diluted and even politicised. So, Bonacossa initiated one of Artissima's official special projects outside of Oval, a direct response 'to the rules that prevent art being expressed without constraints'. Among the unlikely inspirations for the show: an artist-made butt plug in coprolite, crafted from fossilised faeces of dinosaurs dating back 140 millions years. 'Sexuality and desire are spaces of freedom that can really wage a form of resistance to complex forms of closure,' muses Bonacossa.
Behind the veil
Turin-based graphic design studio Fionda was tasked with creating the fair's visual identity for the second year. Taking the theme of 'desire/censorship', the studio imagined a series of circular cut-outs that expose glimpses of a second photographic layer. 'We have selected a black, symbolic mask through which one perceives images but never in a clearly legible way, capturing the gaze at first glance. But we do not see only this: in each image one of the holes reveals a written message,' wrote Fionda creative director Roberta Maria Clemente in a statement.
RELATED STORY
Removed from their context and without any indication of author, they suggest 'other interpretations of the image in a semantic drift that alternates common meanings with other prohibited, unspeakable things', Clemente adds. The design both conceals and reveals at the same time, referencing the historical importance of the mask and elements of BDSM culture.
Beyond the fair
Such is Bonacossa's influence that her three-year tenure has recently been extended for until 2021 by the board of directors of Fondazione Torino Musei. (Owing to the fair's public ownership and funding structure, Artissima directors typically serve short terms). Since 2016, due to the growing financial success of Artissima, government contributions originally destined to support the fair were reinvested in other cultural projects in the city and wider region. And while Artissima has wrapped for another year, we're not quite ready to leave the party just yet. Here's our pick of exhibitions to see in and around Turin.
Castello di Rivoli
Swiss artist Claudia Comte commandeers the top-floor gallery of Castello di Rivoli's historic residence with a series of vast perception-shifting mural interventions, partly inspired by the 18th-century decorative motifs present throughout the property. Comte's research for her site-specific exhibition also included a study of the rock formations specific to where the museum is located on the edge of Turin.
'How to Grow and Still Stay the Same Shape', 31 October – 23 February 2020. castellodirivoli.org (opens in new tab)
Palazzo Madama
The Foundation Prince Pierre de Monaco presents a video work by Arthur Jafa – winner of the 47th Prix International d'art Contemporain (PIAC), which is awarded every three years to recent work by an artist. The Mississippi-born artist scooped the €75,000 prize in October with his widely acclaimed film Love is the Message, the Message is Death (2016), a poignant reflection on black history and experience in America. In the Palazzo Madama, however, the film takes on a jarring new meaning, one that is arguably at odds with its opulent surrounds.
'Love is the Message, the Message is Death', 1 – 13 November. palazzomadamtorino.it (opens in new tab)

Officine Grandi Riparazioni (OGR)
Monica Bonvicini is making herself at home in Turin with a large-scale architectural intervention into OGR's former industrial premises. Cutting the exhibition space in two, the Italian artist sets the stage for a dual showing of sculpture and photography. Most impressive is the wooden skeleton of a half-built structure that has its roots in 1970s Californian residential architecture, though its 'residents' will leave a chill in your bones.
'As Walls Keep Shifting', 31 October – 2 February 2020. ogrtorino.it (opens in new tab)

Fondazione Sandretto Re Rebaudengo
Berlinde De Bruyckere has taken a monumental leap in her artistic practice, with series of site-specific works that draw inspiration from a visit to a skin trader workshop in Anderlecht, Belgium. In the austere space of the foundation, the freshly flayed animal hides are piled up onto large pallets and covered in salt, to protect and preserve them for future treatments.
'Aletheia', 1 November – 15 March 2020. fsrr.org
Abstract Sex: We don't have any clothes, only equipment
What's at stake in the idea of desire? Curators Lucrezia Calabrò Visconti and Guido Costa hypothesise that desire today is 'completely entangled in what we call the "pornographic regime".' At the R-rated off-site exhibition occupying cult fashion boutique Jana on Via Maria Vittoria, visitors would have encountered, among other works, a seemingly innocent boater hat by Simon Fujiwara; a glitter-gold curtain evoking the queer of flag-planting' by Wu Tsang; and Thomas Hämén's Asstral Traveler (we'll leave some room for imagination).
31 October – 3 November. artissima.art (opens in new tab)

Art Mapping Piemonte
Artists Zhang Enli, Oliver Mosset and Mario Ariò will create site-specific installations in the Piedmont region outside of Turin city, ranging from a sculptural work in the deconsecrated church of San Remigio to a fresco in the rural chapel of Montabone. The initiative was produced by Fondazione Torino Musei and curated by Bonacossa for Artissima.
compagniadisanpaolo.it (opens in new tab); regione.piemonte.it (opens in new tab)
More highlights from Artissima 2019
INFORMATION
Artissima 2019 ran from 1 – 3 November. artissima.art (opens in new tab)
ADDRESS
Oval Lingotto Fiere
Via Giacomo Mattè Trucco, 70
10126 Torino