Dealer's choice: architect Tom Croft on layering character into London's Skarstedt gallery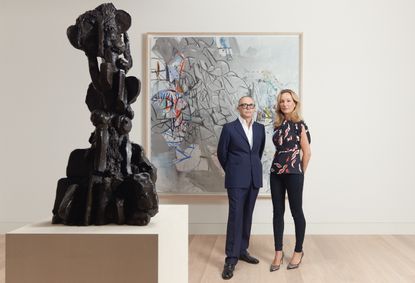 (Image credit: Sofie Middernacht and Maarten Alexander)
Swedish art dealer Per Skarstedt is a man who likes a project. He's currently renovating a £17m town house on Manhattan's Upper East Side and has just opened a new gallery in London's St James's. Two years ago, he renovated a beach house in the Hamptons as a holiday home for his wife and two sons, and he's still tinkering with his London pad in Albany, Piccadilly, that was officially finished in 2014.

Aside from acquiring blue chip addresses in London and New York, where he has galleries in Chelsea and on Madison Avenue, he's been amassing art in large quantities. He bought his first piece, by Cindy Sherman, in 1987 when he was 23 and still living in Borås, the small town in Sweden where he was born.

A year later, he met Sherman, along with Martin Kippenberger, and he has been collecting both, along with Richard Prince, for almost 30 years. Specialising only in European and American art from the 1980s onwards, Skarstedt now also represents 30 artists, all of whom have become famous and many of whom he counts as friends.

The loyalty Skarstedt displays to his artists also extends to his architects. Annabelle Selldorf takes care of his operations Stateside. She designed his Hamptons retreat, the Chelsea gallery and is renovating his 10,000 sq ft Manhattan home with interior designer Jacques Grange. In London, architect Thomas Croft looks after Skarstedt's spaces. He designed his former London gallery, on Old Bond Street, opened in 2012; Skarstedt's Georgian gentleman's pad in Albany (neighbours include French art collector Jean Pigozzi and design dealer David Gill); and the new gallery in St James's.
'Per started as a dealer and collector and comes from a position of buying art for himself. He's interested in how art sits in interiors, how the two work together, what makes a successful backdrop,' says Croft, as he weaves past removal men delivering elegant Danish furniture into the new gallery's offices. (In 1990, Skarstedt also started buying Scandinavian midcentury furniture and he now has more than 200 pieces from the likes of Finn Juhl, Hans Wegner and Axel Salto.)

Skarstedt met Croft through artist George Condo, and Croft was already well versed in gallery design, having created spaces for Timothy Taylor, David Gill and Simon Lee. 'Some projects require you to step forward with a proposal,' says Croft, 'but with gallery spaces it's almost the opposite; you edit the space, as the art provides the layering.'

Stretching to 5,000 sq ft across two floors, the gallery offers three interconnected rooms with large white walls. It's Skarstedt's biggest venture yet. 'My aim was to create an elegant space that was a reflection of our Upper East Side gallery,' he explains. 'The latter is located in a historic townhouse which was formerly the Rosenberg Gallery where Picasso and Braque were first shown in New York.' The 1930s London space, formerly the home of the Portland Gallery, may not have such a rich pedigree, but it's grand nonetheless, with a vast front door flanked by stone obelisks and arched windows.

Bona Montagu, Skarstedt's business partner and director since 2012, runs the new gallery. 'It affords us the ability to curate more comprehensive historical exhibitions while providing a platform for our primary programme,' she explains. She also knows St James's inside out, having worked for Simon Dickinson gallery for 17 years, and prefers its Old Masters feel to the retail-y atmosphere around Savile Row. The nature of the area, combined with the distinctly non-white-cube feel of the gallery, 'partly informed' the inaugural show, 'Cindy Sherman and David Salle: History Portraits and Tapestry Paintings'. On show are six paintings by Salle and eight photographs by Sherman, all created between 1988 and 1991.

When Skarstedt moves into his new Manhattan home, he will be neighbours with Larry Gagosian. Although both are mega-dealers, they are not rivals. 'Per's not a normal dealer,' says Croft. 'He works with very established artists, looks at their whole oeuvre and selects what he thinks is a key period. It's a secondary-market approach with primary artists.' He can reinvigorate an artist's career, shape their legacy and move the market in terms of prices.
Croft, too, is something of a small-scale art collector, having grown up with heirlooms from his once-wealthy ancestors (they founded Croft Port in 1588 and all was well until Uncle Percy took charge in the 1930s). His skill in pairing Robert Venturi chairs with 18th-century family portraits in his own home extends to creating contemporary spaces in historical buildings, and new spaces with classical touches. 'Occasionally gallerists have offered to pay me in artworks,' muses Croft, recalling how Timothy Taylor offered him some Richard Hamiltons, Thomas Dane some Damien Hirst Butterfly paintings, 'but I was always too poor to accept'.

Now, though, with commissions for high-end homes and country estates rolling in, and three new houses on the Howard de Walden Estate in central London under construction, Croft could easily accept canvases instead of cash. 'But I'm sad to say that with Per I'm off the price list. He doesn't have a painting cheap enough!'

Angela Choon, senior partner at David Zwirner, has known Skarstedt since the early 1990s, when they all started out in New York together. 'Right from the get-go, Per made very personal purchases that were focused and specialist,' she recalls. 'His niche approach has created a really strong, specific market that complements ours. At this point in time, his artists are almost classic.'

'Per likes the layering of history in his spaces, and galleries need character,' says Croft. 'It's important for every art space because the works just look weird in a blank white room.' Complementing the softly spoken Swede on his consistency of character, Croft adds, 'He also enjoys long-term collaborations with people'.

His loyalty has paid off. As Choon says: 'Per knew exactly what he wanted to do and he picked the right artists to do it with.'

As originally featured in the November 2016 issue of Wallpaper* (W*212)
INFORMATION
'Cindy Sherman and David Salle: History Portraits and Tapestry Paintings', is on view until 26 November. For more information, visit the Skarstedt website (opens in new tab) and the Thomas Croft website (opens in new tab)
ADDRESS
Skarstedt
8 Bennet Street
London, SW1A 1RP
Emma O'Kelly is a contributing editor at Wallpaper*. She joined the magazine on issue 4 as news editor and since since then has worked in full and part time roles across many editorial departments. She is a freelance journalist based in London and works for a range of titles from Condé Nast Traveller to The Telegraph. She is currently working on a book about Scandinavian sauna culture and is renovating a mid century house in the Italian Lakes.