The Brant Foundation tells a fairytale of New York
'Third Dimension' at The Brant Foundation's East Village location reads like a love letter to the contemporary art of New York City– which recently won the Wallpaper* Design Award for Best City 2020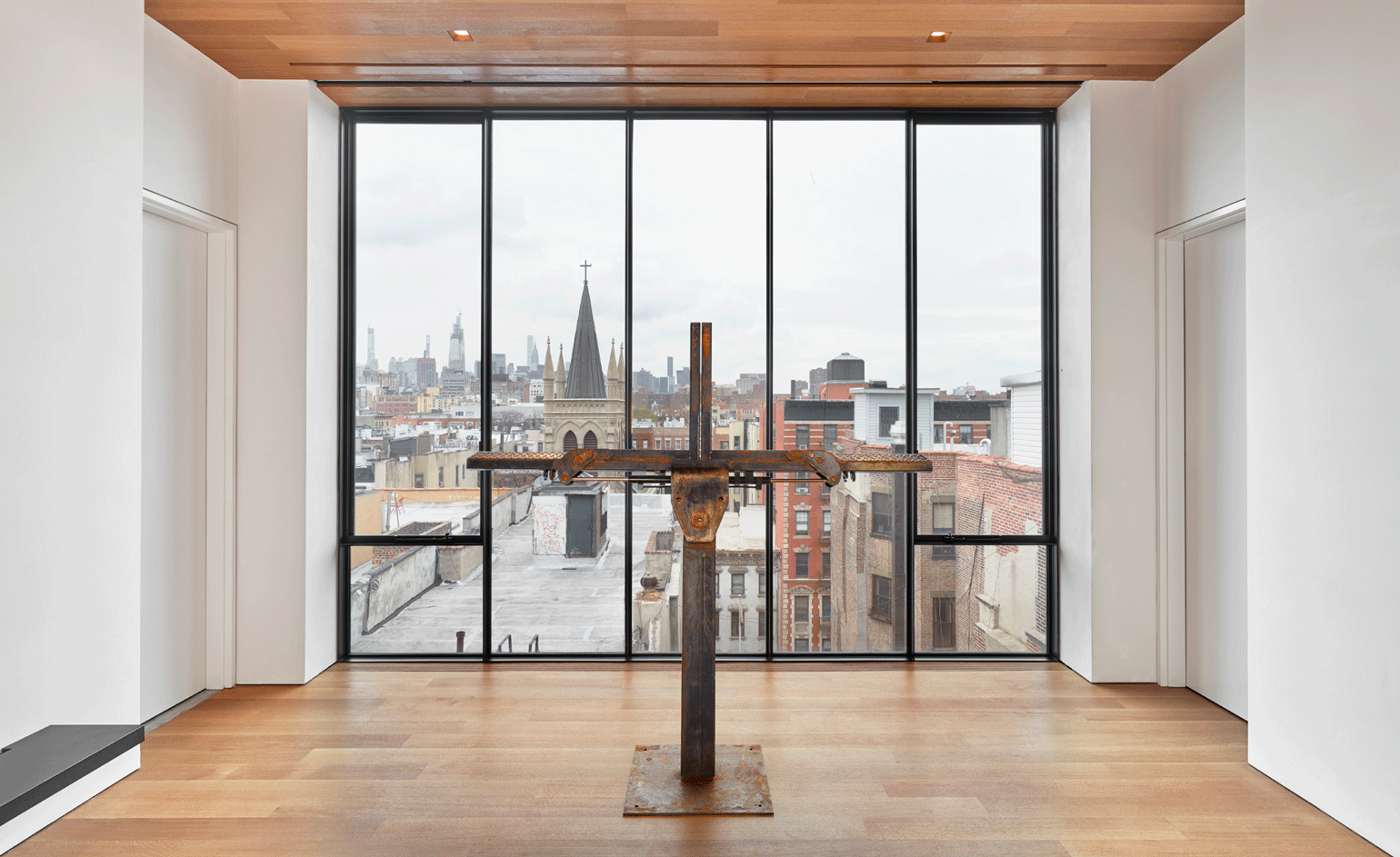 (Image credit: Tom Powel)
'We make connections between artists inside the gallery, and what's going on outside its windows,' says director Allison Brant, looking out across the public gardens of the New York City location of The Brant Foundation. 'We have these breathtaking vistas on every floor to the East Village, and on the top floor you can see out to Seventh [Avenue].'

Brant loves the city, and it seems the city loves The Brant Foundation back. In 2019, its blockbuster inaugural exhibition (a retrospective of NYC legend Jean-Michel Basquiat) attracted around 120,000 people in 68 days. 'We ventured to guess that around 30,000 of them were coming from the local community – we opened up the show to them first. Of course, no one likes construction,' Brant explains, referring to the renovation project that prefaced the gallery opening in early 2019 – 'but we've ended up with this free, public space, with two beautiful gardens. We've had such wonderful conversations and feedback from the East Village community.'
Now, after the buzz of the Basquiat exhibition, a quieter, more ephemeral group show stands in its place. Despite its intentionally muted nature (which gives many never before seen works from the collection a moment in the spotlight), a group of remarkable artists appears; many of whom have similarly meaningful connections to the city as the SAMO street artist. Kenny Scharf, Claes Oldenburg, Dan Flavin and Rob Pruitt are in direct conversation with Glenn Ligon, Urs Fischer, Andy Warhol. The roll call reads like a dream downtown dinner party guest list.
The nearly-new Brant Foundation space is steeped in New York history, and art history. The century-old building was originally designed as a substation for an energy company, revealing the area's industrial heritage. Then, from the mid-1980s until his death in 2013, it was the studio of artist Walter De Maria, an indication of the East Village's shifting identity as a hotbed of artistic fervour.

Now, the building has been renovated by Richard Gluckman of Gluckman Tang Architects into a 16,000 sq ft building that features 7,000 sq ft of exhibition space arrayed across four floors. Outside, you expect to see documentary filmmaker Nelson Sullivan balletically appear around the corner with his 8mm camera, direct from the early 1980s. You can almost hear the ghost of Ginsberg howling on the corner.
The location joins The Brant Foundation's longstanding Greenwich location (which opened in 2009, also designed by Gluckman), which presents two long-term exhibitions each year, usually focusing on one artist in particular. The collection is renowned for covering the depth of an artist's oeuvre; from the earliest period of their practice through to their most recent. The New York location offers an easy-to-reach space to view the collection's artists in context with each other, with much more space for group exhibitions.

In turn, this gives us the opportunity to appreciate the genius of Peter M Brant (Allison's father) as a collector. We have the industrialist to thank for the breadth and magnitude of the collection. Working with dealers such as John Weber and Leo Castelli, Brant began collecting minimalist and post-minimalist sculpture in his early 20s. 'I think of my father as an extremely daring collector,' says Allison. 'He collected Claes Oldenburg's Big White Shirt with Blue Tie in his tiny New York City apartment. No one else was really collecting these large scale sculptures in the 1950s; and he's collecting them at 22 years old in a small city space.'

One such work in 'Third Dimension' – striking for its sheer size – is Urs Fischer's Untitled (2011, pictured above), which features a wax replica of Giambologna's 16th-century sculpture The Rape of the Sabine Women, stretching over 20ft in height. The candle work, which also includes a wax sculpture of artist Rudolf Stingel and an office chair, will melt away over the course of the exhibition, through a system of wicks incorporated in the sculpture's interiors.

Allison, a triplet, is one of nine siblings, all of who are 'deeply rooted' in art, and her dedication and enthusiasm for the oundation is catching. 'We owe it all to our parents – we've been given the gift of being able to see everything as art,' she explains. Allison pairs this sensibility by paying diligent attention to the operational side of running a leading art foundation.

She talks of exciting developments to watch out for: a store on the first floor of the East Village location that features collaborative projects with Jeff Koons and Karen Kilimnik; and a long-running library curation programme that will see 25,000 books from the collection available to educators. And she's even excited about the editorial developments of The Brant Foundation's Instagram (opens in new tab), which is used as a moodboard, and often showcases intimate design ideas taken directly from Peter Brant's personal collection. Watch this multifaceted space.
INFORMATION
'Third Dimension', until September 2020, The Brant Foundation. brantfoundation.org (opens in new tab)
Elly Parsons is the Digital Editor of Wallpaper*, where she oversees Wallpaper.com and its social platforms. She has been with the brand since 2015 in various roles, spending time as digital writer – specialising in art, technology and contemporary culture – and as deputy digital editor. She was shortlisted for a PPA Award in 2017, has written extensively for many publications, and has contributed to three books. She is a guest lecturer in digital journalism at Goldsmiths University, London, where she also holds a masters degree in creative writing. Now, her main areas of expertise include content strategy, audience engagement, and social media.