Photographer Akasha Rabut embraces New Orleans' elusive subcultures
Death Magick Abundance captures the spirit of this vibrant city of the American South through its people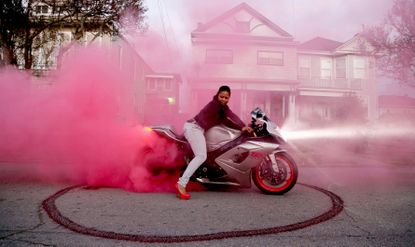 (Image credit: Akasha Rabut)
To look at Akasha Rabut's first monograph, you'd be forgiven for expecting something other than a photobook inside, but its pink-fronted, star-marked cover is only half as curious as its name. Death Magick Abundance, published by Anthology Editions, refers to the photographer's own understanding of New Orleans' cycles of life: things die in order to bring others to life. Designed by local artist and tattooist, Pauly Lingerfelt, the cover itself suggests something of Haitian spell magic.

Whilst a pervasive image exists of New Orleans: its brass instruments, its parades with joy-stepping second lines and feather-strewn regalia, penetrating the city's thick skin is a hard-done task. Rabut's photobook took a decade to amass, by which point she'd been 'invited in', even to two of the city's most elusive subcultures: urban cowboys and an all-female motorcycle riding club. Rabut works like a documentarian, guided by wabi-sabi principles as she embraces both the ruins and vibrance of New Orleans.
It started with a death. Lionel Batiste, of the Treme Brass Band, died in 2012. On this occasion, Rabut was invited to her first jazz funeral, a formative experience for the photographer, whose first wanders about the city were affronted by persistent Hurricane Katrina devastation. 'There is still a thriving culture, there's post-Katrina culture,' Rabut explains.
It is clear that the lens stands in for Rabut's own person. Often, the people she captures look out through the image, at times with arms outspread to invite you in or with a single finger held to their lips, intimating a secret, all teased out by Rabut's considered, ethnographic approach. 'I work better when I feel connected to a place, when I have been able to build trust and relationships,' she says. 'I want people to want their photo taken as much as I want to take it. I often worry about being extractive and exploitative. [New Orleans] has been exploited enough'. The city's residents encircle themselves in ritual culture, marked most evidently by second line traditions – itself an act of strength and persistence.
You could think of the book as 'a day in the life of' a New Orleanian, but only if you remember that it is a day only made possible by other difficult ones, a day that took ten years to bring about, presented to you in colour and print.
INFORMATION
Death Magick Abundance, available from 24 March, published by Anthology Editions. anthology.net