Grand statements: Ai Weiwei unveils new works at Athens' Cycladic Art Museum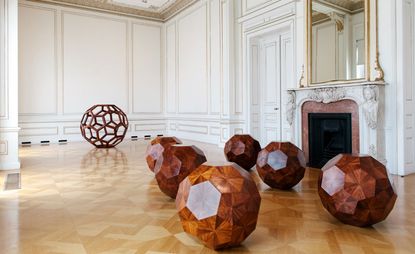 (Image credit: Ai Weiwei & Museum of Cycladic Art)
For Ai Weiwei, Instagram has been a friend and an enemy. The pros are that the platform has multiplied his international fame tenfold, turning him into one of the app's biggest stars and also a defacto real time newswire, documenting the Syrian refugee crisis in Lesbos, the Syrian border and Beirut.

The negatives are people's skepticism over his presence, wary of an ethical grey area that has seen his photos of the crisis become a prestigious body of work. A self-titled new exhibition at the Museum of Cycladic Art in Athens – on view until 30 October – tries to answer these questions.

'We have to protect humanity. Through my art I'm trying to give a voice to people who might never be heard,' Weiwei said at the exhibition opening, a showcase of photography and new sculpture in part profiling a five month-long period documenting the Syrian crisis. 'I think it's terrible that European governments are pushing refugees into Turkey. As an artist you use your emotions to communicate information to the world.' The five-foot tall sculpture Standing Figure (2016) articulates his ideas on the power of governmental solidarity for refugees, as well nodding to his previous work criticising governments – the sculpture's outstretched arms a reference to his indictment of the Chinese Cultural Revolution in the photo series Dropping a Han Dynasty Urn (1995).

Weiwei admires the political and cultural models practiced by the Greeks and his life sized marble sculpture riff on the popular style of crafting human bodies at the beginning of the Cycladic era, which he fused with his love for grand statements, making his own seven-foot version. But it is Greece's morality that the exhibition really lauds: 'Greece showed elegance and respect to let refugees in and not to push people into the ocean; Greece's decisions will be remembered by history,' Weiwei states.
INFORMATION
'Ai Weiwei at Cycladic' is on view until 30 October. For more information, visit the Museum of Cycladic Art's website
Photography courtesy the artist and the Museum of Cycladic Art
ADDRESS
Museum of Cycladic Art
4, Neophytou Douka str.
Athens 10674