'100 Covers' by JP Thurlow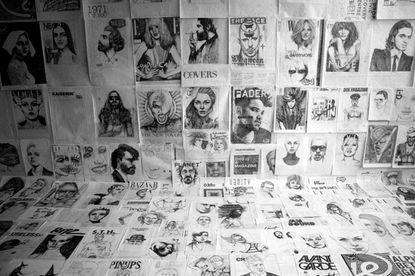 (Image credit: TBC)
Wallpaper* Newsletter
Receive our daily digest of inspiration, escapism and design stories from around the world direct to your inbox
Thank you for signing up to Wallpaper. You will receive a verification email shortly.
There was a problem. Please refresh the page and try again.
We know the artistry involved in creating a magazine cover only too well, so it's always pleasing to see them treated with suitable reverence. In fact, for illustrator JP Thurlow, they've become much more than something merely to admire. They've become muse to a whole series of artworks, currently on show at London's KK Outlet and on the pages of an accompanying book - both titled '100 Covers'.

To create his meticulously detailed pencil drawings, Thurlow doesn't simply copy the covers, he plays with and subverts the images, sometimes producing entirely new works and often toying with the message to witty or politicised effect.
On the cover of Muse, for example, Helena Christensen's image is accompanied with new cover line 'Fucked. Glamourcaine' - a comment on the glazed expressions so favoured by models - while the cover of the brilliantly-named Dik Fagazine, is scrawled with angry text in response to the persecution of gay men in Poland during the war, which Thurlow had been reading about at the time.

Here, the illustrator talks about the project's conception, vandalising his own artworks and the inspiration behind his Wallpaper* cover.
What prompted this fascination with magazine covers?

Long ago, while still a student, I created my own version of an existing record cover. A little while later, when on an artistic retreat in Japan, I found myself drawing the contents of my room, one of the items being a magazine. It began as something purely therapeutic, but the more covers I created, the more entranced I became with the idea of turning something mass produced into a one off.
What happens in their translation to pencil drawing?
My drawings can take a few days to do, so it's inevitable that my own thoughts and feelings are etched on them. The covers become quite autobiographical over that time period. I do like to subvert the image deliberately too, either in a playful or political way, by scrawling messages across bodies and adding in my own imagery. Very few illustrators are prepared to vandalise their work in this way. And if I make a mistake, I won't try and change it. It's the opposite of retouching - I emphasise the flaws.
Are your drawings a kind of stream of consciousness for you?
Yes - they're a dialogue between the original image and how I'm feeling.
Talk us through your Wallpaper* cover
My relationship with Wallpaper* goes right back to its launch. As I was walking across London one day, I spied a photo shoot happening in what looked like an abandoned office, in which a model was wearing a dramatic, white column dress. A few weeks later it was on the newsstand, fronting the very first edition of Wallpaper*.
The dress was one of Tom Ford's early pieces for Gucci. I didn't want to recreate the first ever cover - it has too much significance attached to it - but, for me, I needed the image to have a Tom Ford link, so I took one of the brand's ads from the same time and reworked it in pencil, giving it a tough, Wallpaper* edge. It's a crazy image of a naked woman grabbing a man's crotch. I love the fact that although she's naked, she's in control.
Are the covers a nostalgic project for you?
Absolutely. Any magazine you've had for a long time transports you back. Magazines provide a very strong visual memory of a transient time. I love the idea of freezing this moment in a one-off artwork.
Covers are powerful things and can often be quite prophetic, like the image of Alexander McQueen by Nick Knight for The Face, emblazoned with the message 'Alexander McQueen is dead. Long live Alexander McQueen'. When recreating this image, I discovered a hand-written message of all the things McQueen wished to achieve in his life and scrawled it over the image. Amazingly, he achieved virtually all these things.
A limited edition of 100 signed and numbered copies of the 100 Covers book is available to purchase at KK Outlet, featuring the full series of illustrated covers, a 'post by post' artist's diary and more interviews with JP Thurlow
ADDRESS
42 Hoxton Square
London N1 6PB
Receive our daily digest of inspiration, escapism and design stories from around the world direct to your inbox
Malaika Byng is an editor, writer and consultant covering everything from architecture, design and ecology to art and craft. She was online editor for Wallpaper* magazine for three years and more recently editor of Crafts magazine, until she decided to go freelance in 2022. Based in London, she now writes for the Financial Times, Metropolis, Kinfolk and The Plant, among others.