As New Architecture Writers calls for 2022 applications, we celebrate alumnus Afterparti
New Architecture Writers (NAW), the free, year-long programme for young people of colour, is calling for applications for 2022. Alumni include London-based collective Afterparti, which contributed to Wallpaper's August 2020 issue. Here, we revisit Afterparti's work and celebrate the important initiative that is NAW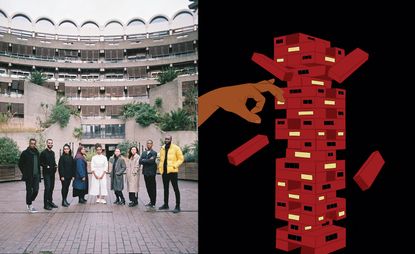 (Image credit: Fiona Cuypers-Stanienda)
Cities are unequal, and power struggles often play out in the arena of the built environment, say the London-based collective of young architecture writers, Afterparti, who emerged from the first cohort of participants of the free, year-long programme for young people of colour, New Architecture Writers (NAW). In August 2020 (W*256), we asked Afterparti to take over some of our pages to reflect on how we can make contemporary urban spaces more inclusive. Here's their response.
From Failure to Power
Afterparti is a collective of nine London-based writers founded in March 2019 to champion radical, underrepresented voices within the culture and criticism of architecture. We explore big ideas about contemporary urban space through the lenses of identity and race. Afterparti curates live events on themes like failure and power. These events are then followed by a zine, also called Afterparti, which acts as a platform to further develop the conversation and also as a space to document our thoughts and experiences. The on-stage discussions at our events become catalysts for the content of the zine and point us towards potential contributors whom we invite to expand upon them in a personal, playful or even provocative manner.
Our zine is only available in print, as, since we are all swimming in PDFs, we think it's important to switch off from the screen and have something that you can hold. Something that takes up physical space on your shelf. We hope that through our live events and our zine launch parties, we can build a closer relationship with our audience. We love that much of our audience is just like us: diverse, passionate and energetic. But our zines and events are for everyone. We aspire for them to be as relevant to architects and designers as they are to wider society, because we all have a stake in the built environment. We have a desire to take the discussion outside of aesthetics. Architecture is political, architecture is social, architecture affects lives. So we deal with these issues in the zine.
Architectural criticism may appear niche but in reality, it isn't. Everyone has an opinion on the spaces and structures around them; it is the language and the platforms in which criticism appears that are niche and selective. That is what we are challenging by widening the conversation to include others. Taking the conversation outside of closed circles and exploring issues that resonate with a wider audience opens up urgent topics and valuable perspectives that aren't typically heard. Whenever we write, we aim to take control of our narrative, to become agents of change. The relationship between architecture and media doesn't flow in a single trajectory, it isn't simply a relationship of one influencing the other; it is a relationship of mutual exchange. Just as architecture influences and is reflected in media, it is influenced by it in turn.
As writers, producers, architects, educators and designers, we recognise this. We are here to challenge the normative discourse around the built environment. We aim to unearth buried and neglected stories within the urban fabric that we believe have been purposely marginalised and excluded from the architectural discourse. In doing so, we hope to give power and voice to those in an unequal city, like London, who feel ignored and unheard. We feel that we have a responsibility as writers, as there is no doubt about the impact of discourse on architectural practice. Therefore, when we write, we do so with the intention of not only transforming the way people interact with or see the city, but also the practice of designing the city itself. We're more interested in cities than buildings, and in their inhabitants than designers. When talking about architecture, we always want to take the discussion beyond beauty. And we want to invite as many people as possible to engage in that conversation with us.
New Architecture Writers' Positive Disruption
Afterparti was formed out of the first cohort of New Architecture Writers (NAW), a programme for Black and minority ethnic emerging writers designed to disrupt the monoculture of architectural discourse. Architecture and architectural media can be perceived as inaccessible fields. The city and its narrative have long been represented by a range of voices that do not reflect the spectrum of its day-to-day users, much less its inhabitants. This is the context in which NAW was conceived in 2017: an open call heralding a younger, socially conscious range of voices. More importantly, a range of voices that represents the city today.
Part of NAW's success has been its selection of writing as a tool for critiquing the built environment. While it may not seem like the most relevant mode of expression in a visually dominant profession, it is important to recognise that the vast majority of architectural criticism exists in written form through a plethora of architecture magazines and journals. The critic plays an important role in contextualising what is being proposed for our city, and writing is a crucial tool for deconstructing and articulating this. It is also an accessible tool, able to reach a wider audience who may not be familiar with the language of plans, sections and elevations.
With this in mind, the open call fulfilled its ambition. Nine writers were shortlisted. The programme unfolded over the course of a year, covering a mix of writing and editing workshops, building tours, and even an introduction to publishing. Industry connections – often the preserve of the privileged – were recognised as integral, and consistently made available through regular mentoring on assignments. This facilitated an environment where discussions on identity and spatial inequality could transpire, culminating in our inaugural event 'The Time for Failure is Now', followed by our inaugural zine, Issue #00. The live event is key to our belief that architectural criticism is a conversation, not a monologue. Our events recognise the need to provide a platform for underrepresented voices. We see this as an important part of tackling monoculture.
By definition, culture is an intersection of co-existing identities that together form a narrative. By providing a platform for these identities, we can begin to shape relationships and dismantle barriers to create an inclusive environment. The first step is opening up dialogue and providing an alternative perspective.
Zine Making in a Digital Age
In an age when the digital is valued over the analogue, and the transitory over the permanent, print becomes even more pertinent. And within a discourse littered with safe opinions, self-publishing becomes almost crucial for the preservation of one's own voice. To write and publish our own content gives us the power to tackle uncomfortable truths; to open up conversations about important but insufficiently discussed topics; and to reach out to a mix of underrepresented voices, exciting upstarts and established figures alike.
Our prototype zine, Issue #00, became an experiment in style, voice and collaboration, catalysed by our live debate in June 2018, 'The Time for Failure is Now'. It was published in March 2019, two years after the Grenfell tragedy and a year after the Windrush scandal, which we felt to be a fitting time to discuss failure. For us, failure had become the overwhelming sentiment that simmered under the surface of architectural discourse. From the housing crisis to the punitive regeneration projects carried out by the council of the London borough of Southwark, failure is what came to define the moment. It was also that said failure that we as a society feared the most.
We addressed this feeling of failure in a number of ways. Each contribution in the zine responded to a quote from the previous event, building upon them, challenging them or subverting them. We explored the theme through essays, interviews and archival images, as well as more experimental formats, such as a playlist called 'Sound Advice', by Joseph Henry of the Greater London Authority and Pooja Agrawal, co-founder of social enterprise Public Practice. This has since grown into a platform exploring spatial inequality through mixing social commentary and music.
For the Love of Power
Identity and personal perspectives are central to our work and to framing our conversations about cities. Our platforms become places we share with others to speak candidly about the built environment in a holistic manner, transcending a discourse more typically dominated by aesthetics alone. Cities are unequal, and power struggles more often than not play out in – and are intrinsically connected to – the arena of the built environment.
At one of our events, as part of the Architecture Foundation's 'Architecture on Stage' programme, we invited a panel that didn't consist of a single architect, in the hope that this would engender a fuller discussion around cities. At the beginning of 2020 – before the lockdown triggered by Covid-19 and before the worldwide Black Lives Matter protests – we took to a sold-out stage at London's Barbican Centre.
We posed the question: 'Who and what holds the power to shape our buildings and cities?' It became an evening of poems, recitations, debate, discussion and calls to action, accompanied by a distinguished panel consisting of Julia King, a designer and researcher at the London School of Economics, Adam Elliott-Cooper, board member of anti-racist organisation The Monitoring Group, and André Anderson, headmaster of Freedom & Balance, a creative school 'for the artist in everyone'.
Over the course of two hours we spoke about feelings of despondency in the face of power, the lasting impacts of an education system that paints false narratives, the power in taking ownership of your narrative, spatial and environmental injustices, the lack of choice or visibility for marginalised communities, the portrayal of the working classes, police brutality, reclaiming power, Black love, and the active role of citizens and cities in each of these.
It has taken the murder of George Floyd to bring these conversations to the fore, but we've always been having them. So were our parents and grandparents. Now, more than at any other time, we are fighting to be seen and to be heard. We are fighting for an equal stake in our cities and societies. We are not powerless; we each have a part to play in the city.
INFORMATION
NAW call for applications (opens in new tab)
afterparti.co.uk (opens in new tab)