Villa Mörtnäs by Fourfoursixsix is an exercise in Swedish simplicity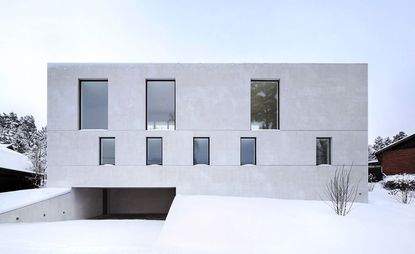 (Image credit: press)
In the heart of the Stockholm Archipelago, the stark concrete form of this Modernist-inspired property in the small community of Mörtnäs is a sharp contrast to its quaint cottage-style neighbours. Appearing as a solid light grey box, with a number of uniformly sized openings providing the sole definition to its otherwise seamless elevations, the Villa Mörtnäs, by London-based firm fourfoursixsix (part of the 2011 Wallpaper* Architects Directory), is an exercise in purity and simplicity in design.

Inside, the spatial arrangement follows a reverse hierarchy, with key living spaces situated at the top and the bedrooms below. Garage and storage zones are located on the lower ground floor. "The steep gradient and aspect of the site dictated the hierarchy of the living spaces", explains project architect Thomas Gray. "The lower level could only provide windows to the north, so it suited bedrooms with ceiling heights at a more residential scale." Floor heights increase as the building rises. This is mirrored on the escalating importance of internal areas, and reflected in the façade arrangement and window size.
See more of Villa Mortnas

Assembly was dictated by a strict six months deadline to completion (aiming to finish before the frosty Swedish winter settled in). A simple Aeroc blockwork - an energy saving material that provides excellent thermal insulation - was used for the concrete construction, finished with a light-grey render. Interior décor is just as minimalist, with painted white walls and ceilings, slender white fixtures and whitened pinewood floors, generating an ambience of serenity. Careful detailing ensures a high level of precision throughout, with flush skirting, concealed door architraves, meticulous joining between elements and floor-to-ceiling living room glazing. The black window frames are concealed from the inside, but are visible externally to emphasize and outline the openings.

Whilst the top floor promotes open plan living, with just a small separate television room and toilet, the floors below divide into more private spaces. Externally, the family house may appear fairly sober and introspective; even the outdoor space is secluded, with a south-facing terrace on the top floor, nestled into the rock face behind. The interior however tells a different story. The generous 3.2m high openings along the perimeter of the spacious living room create a relaxed and outgoing atmosphere, framing stunning views out to the sea, and breaking down the barrier between the inside and outside.
Receive our daily digest of inspiration, escapism and design stories from around the world direct to your inbox