Urbanisms: Steven Holl + Li Hu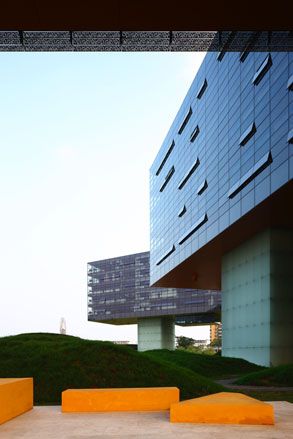 (Image credit: Shu He)
Having had the privilege to be among the first to try out the Beijing Linked Hybrid building while working on our Made in China issue a few months ago, we can assure you that Steven Holl's first completed project in the country was only the beginning for the US-practice's China branch.
Second on schedule, the Vanke Centre in Shenzhen building was completed a few weeks ago, with interior fit-outs to follow later in 2010. Also known as the Horizontal Skyscraper, for its long and lean horizontal volume, Vanke is also the location for the practice's exhibition Urbanisms: Steven Holl + Li Hu, which opens today.
Focusing on work by Steven Holl, with partner and head architect in China Li Hu, the show presents the practice's four recent and ongoing projects in the country; Nanjing Museum of Art and Architecture, Beijing Linked Hybrid, Shenzhen's Vanke Centre and the Chengdu Sliced Porosity Block.
Spanning a period of six years, between 2003 and 2009, the exhibition takes a closer look at the practice's experiments with shape and materials, infused with some serious eco-credentials, all in light of China's rapid urbanisation.
The show examines in particular the Vanke mixed-use building, which includes the Vanke real estate headquarters, but also apartments, an auditorium and a hotel. Under ground level the complex also features a spa, a conference centre and parking space.
Fuelling the debate about the Chinese architectural landscape and urbanisation, Holl's works adds much to the discussion: ecology, urban living in high density environments, as well as technological innovation. The Vanke building is suspended from eight cores, combining cable-stay bridge methods with a concrete frame, and it is the first structure of its kind.
The Vanke Centre is also the venue for Holl and the head architect of his Chinese practice, Li Hu's exhibition Urbanisms: 4 Projects in China by Steven Holl Architects. Image copyright: Shu He.