Grand entrance: Rotterdam practices to transform St Petersburg's Vasilievsky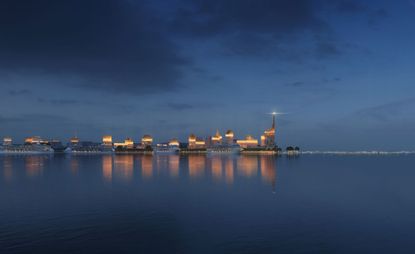 (Image credit: TBC)
The Russian island of Vasilievsky is set for a makeover. The understated yet historically rich locale is an important port-side connection for St Petersburg, bordering the Gulf of Finland. Gearing up for the challenge are two architectural firms, KCAP and Orange, who have won the first prize for the urban and architectural competition.

In the hope of creating a buzzing new geographic sector for St Petersburg, the two Rotterdam-based enterprises are seeking to reposition the small island as a smart entrance point for the city from the water, with a mixture of layer-building concepts that will be modern while also embracing traditional Russian architecture.

Firstly, the peninsula will be enlarged to create an inviting public area, which will be further embellished with blocks to create defined courtyard spaces – a nod to the historical structure of St Petersburg. High rises will then be formed to promote a more metropolitan atmosphere, as well as allowing panoramic views of the area. However, to avoid the soulless quality of conventional tower blocks, the two architectural practices are topping the buildings with gold spires – a further reference to classicist Russian architecture.

KCAP and Orange were chosen from a shortlist of six finalists, in a competition organised by Glorax Development and the municipality of St Petersburg. 'Our plan creates a beautiful antechamber of the majestic historical centre of St Petersburg,' explains the winning duo.
INFORMATION
For more information visit KCAP's website (opens in new tab) and Orange's website (opens in new tab)