Tune in: Hyundai Card Music Library opens in Seoul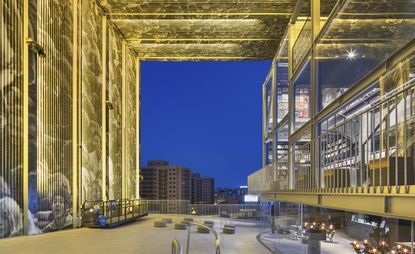 (Image credit: press)
Music lovers have reason to celebrate, as the Hyundai Card Music Library (opens in new tab) in Seoul is now officially open. Set on the main street of Itaewon, one of the South Korean capital's most booming and international neighbourhoods, it aims to break the boundaries of the region's existing realm of musical culture. Conceived as a space for up-and-coming talent to practice and perform, it is also home to an extraordinary collection: over 10,000 vinyls and some 3,000 music-related books - 2,600 of which are either extremely rare or out of print.

Designed by architect Moongyu Choi (opens in new tab) - with interiors by Gensler (opens in new tab) - the project embraces the site's existing sloping topography. The architect uses the building's geometry to create different levels and a variety of spaces, which aid circulation and offer different views of the building and surrounding environment. The building frames Seoul's iconic views, such as the Namsan Mountain and the Han River. Additionally, the quiet library area provides a peaceful retreat from the megacity's hustle and bustle, allowing visitors a moment to breathe.

The Music Library features artwork from international street artists like JR (opens in new tab) and Vhils (opens in new tab) in a bid to inspire the musicians who practice and perform in the Understage complex, a large stage setting created specifically for them.

The new vinyl treasure trove is exclusively available to Hyundai Card Holders, and can only be accessed by members and their guests a maximum of eight times per month. The aim is not quantity, but quality as Hyundai Card spokesperson Fiona Bae explains, 'by providing access to an enriched lifestyle, we build an emotional connection with our customers.' Their premise being that by offering their card members new experiences they enhance their lives, and therefore their company and brand.