Sydney beach house features sweeping roof among sand dunes
Australian architect Peter Stutchbury designs Basin Beach House, a striking seaside home with a sweeping, curved roof, set among the sand dunes near Sydney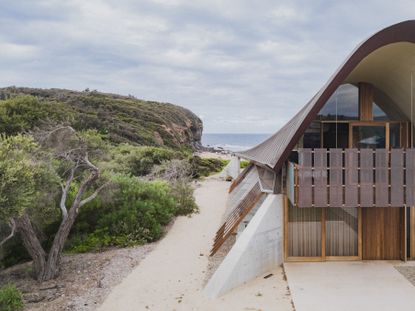 (Image credit: Alejo de Achaval)
Recipient of an architecture award from the Australian Institute of Architects (NSW Chapter), the Basin Beach House, perched above the sand dunes, appears to be on its own. However, since the current owner purchased what was decades ago a countryside cottage, Monavale, a 20-minute drive from Sydney, is now part of suburbia. Designed by eminent architect Peter Stutchbury, the seaside residence is as far from 'suburban' as one could possibly find. Resembling a broad-brimmed beach house, this adventurous home was as much the result of a client wanting something considerably more.

'Our client is an elderly gentleman who has always lived in architect-designed homes as well as surrounding himself with architects, both as family and friends. In this case, his son-in law, also an architect, recommended Peter [Stutchbury],' says project architect Belinda Koopman, a director of Peter Stutchbury Architecture.

Peter Stutchbury Architecture was fortunate to be given an open brief in terms of design. 'From the early discussions, Peter was keen to know how our client lived, the routine of his day and details as to where he would enjoy having his morning coffee,' says Koopman, who enjoys hearing feedback from locals, as well as the broader community. 'Some see the house as tent-like, while others have drawn a comparison to the distinctive headdress worn by Sister Bertrille in the 1960s television series The Flying Nun.'
However, unlike the nun's headgear, this beach house is solidly anchored in the sand dunes, with massive, in situ, triangle-shaped concrete piers. In contrast, the hat or ceiling of the beach house is lined in plywood, with the eaves extending from 3.5m down to 1m in width. 'We were mindful of creating protection from the sunlight, but the change in dimensions [for the eaves] sets up a rhythm that you could say makes the house 'sing',' says Koopman. The protective shell, with its copper roof, also takes on the conditions of this unique site, faced with the on-shore wind and salt air that it carries.

In contrast to the home's robust exterior, the interior features blackbutt timber joinery and brass detailing. Rather than segment rooms with floor-to-ceiling walls, the blackbutt joinery in the kitchen, for example, creates a subtle division to the living areas either side: a sitting area at one end, with an open plan dining and living area at the other. Complete with three bedrooms, two at ground level, with the main and ensuite on the first floor, the house can be enjoyed by the owner, or when family and friends stay over. Concrete floors allow sand to be dragged in by children and grandchildren, and although conceived like a jewellery-box, the home is far from precious.

Koopman looks at the wavy roof form, which partially took its inspiration from the gnarled ti-trees on the site and in the neighbouring reserve. 'If you look at these trees, the branches are slightly twisted, shaped by the wind. But at the same time, the angle opens up the vista of the headlands,' adds Koopman.
INFORMATION
Receive our daily digest of inspiration, escapism and design stories from around the world direct to your inbox