John Pawson leads redesign of St John at Hackney Church in London
John Pawson, Thomas Ford and Partners, and EBBA Architects work together to create an enduring identity for St John at Hackney Church in London, through a series of surgical interventions that bridge old and new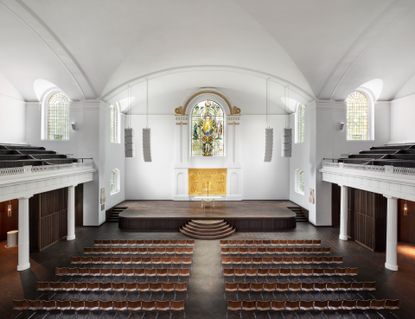 (Image credit: TBC)
Completed in its current iteration in 1797 by architect James Spiller, St John at Hackney Church has been at the heart of its community since as early as 1275. After a devastating fire in 1955, and subsequent restoration, the condition of the church's interior deteriorated in the following decades. It is in this context that designer John Pawson and architects Thomas Ford and Partners, with help from EBBA Architects, found themselves working to re-establish a cohesive identity for the church that would be as enduring as its history.

Key to the success of the work is a series of surgical interventions, which sought to harmoniously integrate old and new. The original vaulted form was accentuated by stripping back the interior. Key elements were then carefully inserted, such as the dark oak panelling created by John Pawson which lines the perimeter of the nave. This references the material in the existing balcony pews, while the ribbed detail echoes the fluting on the columns defining the central space.
The contextual sensitivity extends to the entrance and grounds, where the design of the display boards and wayfinding totems by EBBA Architects, headed by Benni Allan, 'plays on the large windows of the church, mimicking the delicate metalwork around the frames.'
This seamless stitching into the existing fabric realises the Rector Reverend Al Gordon's vision for the restored church to be 'a cathedral of creativity - a thriving place of worship that would be both a centre for the arts and a world-class events venue.' The oak panelling rises to the challenge by reducing sound reflection and contributing to the overall improvement in acoustics of the space. It also conceals a lot of wiring, which according to Clive England of historic building architects Thomas Ford and Partners 'is something that we [deal with] on all of our projects, but the sheer quantity on this project was unusual.'
RELATED STORY
Despite the many constraints, a delicate restoration was achieved, which, together with the provision of new escape routes, will allow for a capacity of 2000 people to be met, liberating the space to be transformed as 'a music venue or event space offering a rich experience for every category of user,' according to Pawson.

This will not only provide a model for how churches might be adapted to embrace evolving functions over time, but it will also secure a continued relevance for the typology as a key contributor to the civic culture of the city as a whole.
INFORMATION
johnpawson.com (opens in new tab)
eb-ba.co (opens in new tab)
thomasford.co.uk (opens in new tab)