Sou Fujimoto temporary hall for the Dazaifu Tenmangu Shrine features 'floating forest'
A new Sou Fujimoto temporary hall for the Dazaifu Tenmangu Shrine in Japan is revealed, completed with an elevated, lush green roof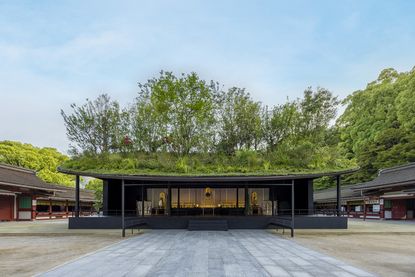 (Image credit: Dazaifu Tenmangu)
This Sou Fujimoto temporary hall has all the ingredients of a Japanese fairy-tale: a floating forest on an oval roof, a flying plum tree and sacred textiles seen only by a deity. And after three years? It will disappear. This weekend, Dazaifu Tenmangu Shrine, a historic site in lush green Fukuoka in southern Japan, starts a new chapter in its 1,100-year history, with the opening of its project by architect Fujimoto.
The new hall is a minimalist black structure with hints of a modern take on traditional shrine architecture, capped with an elliptical 'floating forest' roof. It features camphor, cherry and maple trees, plus flowering rhododendrons. Inside, sacred textiles are centre stage, designed by Japanese fashion brand Mame Kurogouchi and crafted by generations-old Kyoto artisans – the inner sides not viewable by human eyes, only the shrine's deity.
Dazaifu Tenmangu Shrine's Sou Fujimoto temporary hall
The new structure will stand in the inner sanctum of Dazaifu Tenmangu for three years before being dismantled. It will be operational while the main shrine building is renovated for the first time in 124 years.
'With this project, we were faced with the important question of how modern architecture can respond to a history of 1,100 years,' says Fujimoto. 'We thought about the rich nature that surrounds Dazaifu Tenmangu and the traditions of the shrine – and approached the design with a conscious desire to pass these onto the future.'
'We started this over two years ago. It was a challenge creating a temporary building which is both traditional and modern, while also continuing into the future. It's very simple but it carries a long, important history.'
The history of Dazaifu Tenmangu
The shrine was built 1,121 years ago upon the grave of Sugawara Michizane, a legendary ninth century poet, scholar and politician who was exiled to Dazaifu from Kyoto. After his death he was recognised as Tenjin, the Shinto deity of learning, culture and the arts.
Fujimoto's temporary hall is the latest in more than a millennium of creative activities for Dazaifu Tenmangu. The shrine is historically renowned as a cultural sanctuary for learning, with 10 million visitors a year. It is celebrated for its contemporary arts projects, with installations by Ryan Gander and Simon Fujiwara scattered among its ancient grounds.
The shrine's nature-rich setting is also famously home to a special plum tree, just next to the main hall, which, according to legend, flew there from Sugawara's Kyoto garden, having missed its exiled owner.
Explaining the floating forest, Fujimoto adds: 'Its concept derives from the legend of the flying plum tree. Plum trees and other plants seem to fly here and dance, creating the roof of the deity's dwelling. They will change colour as the climate and seasons shift.'
Simplicity underpins the clean-lined form of the matte black steel structure, open on three sides. Elements of traditional shrine architecture are filtered through a contemporary prism – from thin black poles echoing ancient wooden columns to the gentle curvature of its louvered black wood ceiling, inspired by the shrine's taruki rafters, creating a sense of 'spatial solemnity,' as Fujimoto puts it.
Cut into the roof is a deep circular skylight, resulting in a shaft of light hitting the floor in front of visitors praying at its threshold, the shadows of rooftop trees flickering across the hole's inner light grey walls.
Spanning 13m across the hall is Mame Kurogouchi's sacred curtain, called a mitobari, made by 19th century Kyoto-based Kawashima Selkon. Delicately-etched plum tree branches flow across five panels of subtly shifting shades, from airy pale pink to light green. The inner side, out of sight of visitors, was designed for the deity Tenjin.
At either end are two textile screens known as kicho, with vividly abstract natural scenes inspired by iris flowers, plum blossoms and an ancient camphor tree at the shrine's entrance, inside which Maiko Kurogouchi, the brand's designer, sheltered during a rain shower.
Organic shades of purples and greens wash across the intricate silk textiles, crafted by Kyoto's kimono textile makers Hosoo, who used natural dyeing ingredients made from the shrine's camphor and plum trees plus rare gromwell root.
Surfaces are textured with vertical threads typically seen on the reverse side of textiles – an organic blurring of inside and out also found in her fashion collections – evoking a visual sense of rain falling and time flowing.
'When I create my collections, fabric design comes after designing clothes,' Kurogouchi says. 'But this time, everything was about the fabric. It allowed me to work on a larger form of expression. I asked Hosoo to combine modern weaving looms with their own ancient dyeing technique, to create a work that represents the times we live in now. The designs and materials incorporate a plum motif that symbolises the shrine, as well as memories of the chief priest's family.'
She adds: 'All these elements are merged in the landscape of my memory. I hope visitors will feel the energy and calmness of life in the shrine – and find their own landscape to create unique memories.'
The main shrine hall will undergo extensive renovations, including a new hiwada bark roof and lacquering, before reopening in 2026.
Nobuhiro Nishitakatsuji, the chief priest, adds: 'The temporary hall design, conceived with a deep respect for tradition and the rich nature of the shrine grounds, is very much in harmony with the architectural appearance of the shrine.'