London's Sloane Street set to become a striking green boulevard
Watch our new film about Sloane Street's transformation, set to deliver a cleaner, greener and more desirable destination for all things luxury in London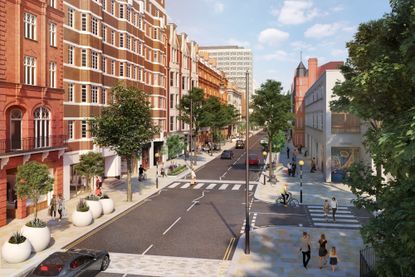 (Image credit: Courtesy Cadogan)
In partnership with Cadogan
London's Sloane Street is undergoing a major enhancement that is set to boost its global reputation as a destination for luxury retail and hospitality. A partnership between property owner, manager and developer Cadogan and the Royal Borough of Kensington and Chelsea has enlisted the talents of architects John McAslan + Partners and multiple Chelsea Flower Show-winning garden designer Andy Sturgeon to complete a redevelopment that will transform the 1km-long historic street into a more beautiful, greener and pedestrian-friendly boulevard, a fitting home for its high-end shops, restaurants and hotels and a welcoming environment for everyone.
A new film by Cadogan and Wallpaper* explores the project through interviews with the key creatives, and Cadogan's CEO Hugh Seaborn.
Sloane Street past and present
Sloane Street is part of the 93-acre Cadogan Estate, with which the Cadogan family has been associated for 300 years, originally laid out to plans by architect Henry Holland in 1777. Sitting between 350 acres of Hyde Park at one end and Sloane Square at the other, and with near neighbours including Serpentine Gallery, Harrods, Harvey Nichols, the Saatchi Gallery and the King's Road, Sloane Street has long been smart, vibrant and international, a balance of extreme luxury and genuine community.
Across the centuries, it has also been at the cutting edge of architectural elegance and innovation. There's Osbert Lancaster's red-brick gabled 'Pont Street Dutch' style from the 1880s; Arne Jacobsen's modernist Danish Embassy building of 1977; and the monochromatic Edwardian frontage (covering Georgian brickwork that was more familiar to one-time resident Jane Austen) of number 64 Sloane Street (the most Instagrammed building on the street).
Sloane Street today is home to some of the world's best hotels, restaurants and retail, with flagships including Tom Ford, Giorgio Armani, Gucci, Hermes and Chanel. Emilia Wickstead and Diptyque have recently launched new boutiques there, while Dior, Bottega Venetta and Valentino are set to significantly increase the size of their Sloane stores over the coming year.
'You feel like you've made it if you are on Sloane Street,' says Anya Hindmarch, whose Sloane Street flagship and nearby Anya Village on Pont Street are both key addresses in the area. 'Sloane Street is one of the most famous boulevards of the world. And yet it also feels like a local community. You feel part of its history as a place of beautiful things and a playground for creativity.'
Sloane Street of the future
Currently, the Kensington and Chelsea playground is a hive of creativity for architects, landscape gardeners, artisans, lighting experts and heritage specialists, working on elevating the boulevard experience to greater heights of luxury and community.
The two-year transformation of Sloane Street will enhance its power and timeless appeal as one of the world's most desirable destinations – elevating everything the eye touches on a wander along the Street, while subtly 'designing in' improved security measures and enriching heritage detailing.
This includes wider pavements created from honey-hued York stone, over 100 new trees, elegant street furniture, better lighting and more crossing points. From Knightsbridge all the way to Sloane Square, the Street's rich character will be further emphasised by new lamp posts (with detailing inspired by the street's 'temple to the Arts & Crafts movement' Holy Trinity Church), outdoor seating, a high and lush tree canopy and uplifting planting scheme, extending the central gardens out along the pavement to create an unrivalled pedestrian experience.
The project is masterplanned by John McAslan + Partners, the architects responsible for the transformation of London's King's Cross, who will oversee building renovations in addition to new construction. The 'greening' is in the hands of award-winning gardener Andy Sturgeon, who will follow a 'royal' colour palette of rich maroons, reds, purples and blues for the diverse and climate resilient mix of flowers, shrubs and trees.
With the project's partners committed to a more sustainable future, the whole life of the public realm scheme is designed to be ultra-low carbon impact. In addition, a newly cultivated 'pocket forest' (created in a partnership between Cadogan and Louis Vuitton) extends the greening; beehives and natural ponds in Cadogan Place Gardens encourage biodiversity; and new waste-collection cargo bikes are taking trucks off the road and further supporting the improvement of local air quality.
A strategy is also in place to boost vibrancy through increasing the number of enticing new places to eat and drink on the street, with several new openings planned. The first of these will be a new restaurant from Italy's Antinori family, a dynasty renowned for producing some of Italy's finest wines for over six centuries. Cantinetta Antinori will open opposite Louis Vuitton in late spring.
With every boutique on Sloane Street its own temple to luxury (embracing exquisite materials, surprising details, and incredible art), the developers are determined to ensure that the 'on street' environment matches the in-store experience.
'It is really important to us, acting as stewards in the area, to make sure we've got vibrant communities, to create a destination people can really connect to,' says Hugh Seaborn, Cadogan's CEO. 'What we're here to do really is to protect and enhance [the area's] rich heritage so that it has benefits for everybody.
'Sloane Street is one of the most iconic luxury shopping streets. The vision is to make it one of the most beautiful and elegant luxury shopping streets in the world.'