Shadow play: Pitsou Kedem Architects cast an Israeli residence in a new light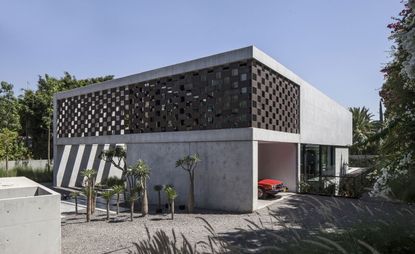 (Image credit: TBC)
This new house in Israel (opens in new tab), by local practice Pitsou Kedem Architects (opens in new tab), is a clever interplay of light and shadows, concrete and weathered steel surfaces, and open and closed spaces. Located in Savion, a smart residential area a short drive from central Tel Aviv, the house was designed by architects Pitsou Kedem, Irene Goldberg and Hila Sela for a single person as a space to live in and receive guests and family.
Shadow is the building's most important element, explains Kedem, a fact clearly hinted at in the residence's name: In Praise of Shadows. Sunlight - available abundantly within the local climate - was a key influence in the design process. The structure elegantly takes advantage of changing light patterns throughout the day, harnessing natural light to create a 'dynamic drama' through the house's Cor-Ten chequerboard screen on the upper-level façade. This both floods the spaces and helps shape the character of the rooms inside.

Indeed, the internal spaces are rich in textures and views; the strong concrete walls simultaneously frame and protect residents, while opening up the home to the surroundings beyond. Warm brown woods inside offset the concrete structure's rougher external feel. The internal arrangement is clear and straightforward, spanning two distinct levels.

The ground floor contains the common areas, while the first floor is home to two generous bedrooms, bathroom and a walk-in wardrobe. The generous double-height living space is overlooked by a long internal balcony upstairs, featuring the library. Courtyards shaded by the Cor-Ten screen open up towards the garden, which includes a swimming pool. The courtyards are dotted with carefully placed plants.

A design masterfully balancing contrasts, In Praise of Shadows is a residence that creates an inviting visual dialogue between inside and outside, making the most out of the site's climatic conditions.