This green retreat brings the Australian beach house to California
A Californian beach house, inspired by Australian seaside retreats and infused with a contemporary aesthetic and an environmentally friendly approach, is the latest residential completion by the US architecture studio of Alec Petros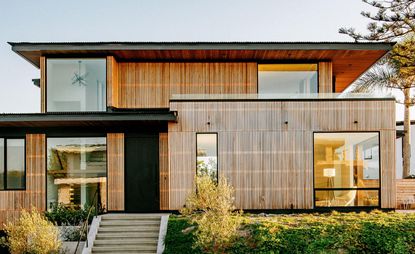 (Image credit: Tim Melideo)
Perched on the Solana Beach hillside in the region's coastal landscape, the Seaside Reef House is defined by a subtle combination of elegance, conviviality, and domestic comfort. Designed by American Alec Petros, this Californian home serves as a shaded, versatile retreat for both leisure and day-to-day activities.

Inspired by the Australian beach house vernacular, the residence offers great flexibility of space; it comprises an oak wood floor lined, open plan living space framed by oversized doors, allowing for cross-ventilation to be implemented while unveiling outstanding ocean views. The development of deep roof overhangs (7ft each) that cantilever out over terraces below adds to this concept, and a clever floor-to-ceiling door system blurs the separation between indoors and outdoors.

'Dissolving boundaries that typically separate spaces helped tremendously in gaining the flexibility that we wanted', says Petros. This idea initially emerged from the architect's desire to include a covered porch in the design. 'A wrap-around porch has such a nostalgic feel that connects people with the outdoors, and their neighbourhood', he adds.
Located within walking distance from expansive beaches, the Seaside Reef House also features a series of sustainable systems, creating a green and long-lasting habitat for its occupants. Made of FSC-certified cedar boards, the external cladding is connected to a sleeper wall and enabling air to effectively pass through, while creating a filtering process that prevents the region's high temperatures from affecting the interiors.

'Using this passive energy technique allows the home to reduce its energy demand, especially in warmer seasons', says Petros. On the plus side, the wood that constitutes the exterior skin is a durable material that will age gracefully in this humid-coastal environment.

With Seaside Reef House, Alec Petros - with the help of Nielsen Builders - has brought a stylish, convenient and eco-friendly design to the residential neighbourhood of Solana Beach.
INFORMATION
alecpetros.com (opens in new tab)