Robbrecht en Daem exhibition, London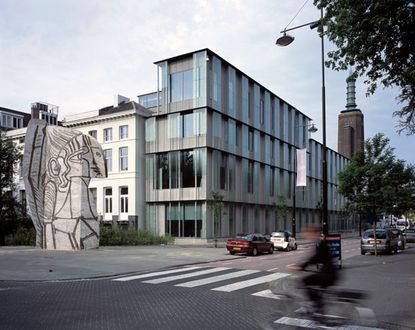 (Image credit: Kristien Daem)
When making your name as an architect, it's tempting to build loud statements that scream to be noticed. But for Flemmish duo, Paul Robbrecht and Hilde Daem, it's the humble poetry of their work that is winning them plaudits - celebrated in their first UK show at London's Whitechapel Gallery.
As the architects behind the gallery's much-lauded extension, it is fitting that Robbrecht en Daem (opens in new tab) should find themselves in the spotlight here once more. On show at 'Robbrecht and Daem: pacing through architecture' is a selection of sketches, watercolours, plans and photographs of their projects, which range from high profile buildings like Bruges Concert Hall and the Boijmans Van Beuningen Museum extension in Rotterdam, to a woodland cabin and a bird observation tower.
A series of short films by Maarten Vanden Abeele also gives extraordinary insight into the world of the architects and the inspirations behind their projects.
The pair have always had a strong relationship with the arts, collaborating with artists on many of their projects. A special section of the gallery is dedicated to these pairings, with work on display by the likes of Gerhard Richter and Isa Genzken. But the architects are careful never to let their buildings overpower the collections they house. 'Simplicity without minimalism is what we aim for,' Daem once said. This show is a testament to the power of that mantra.
ADDRESS
77-82 Whitechapel High Street
London E1 7QX