Peruvian pods: prism-like cabins hang high above Cuzco's Sacred Valley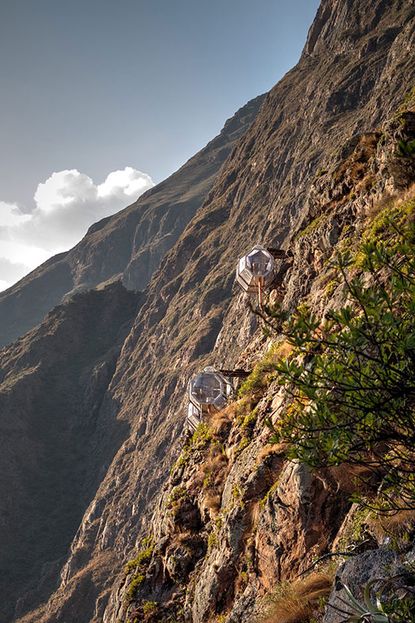 (Image credit: press)
Glamping is reaching new heights in South America – 122 m up a rocky cliff, in fact. That is where travel company Natura Vive's Skylodge Suites hang, high above Peru's Sacred Valley, near the city of Cuzco.

These three prism-like cabins – made from aerospace aluminium, solar panels and glass – offer all the modern comforts one could reasonably hope for when glamping high up in the mountains.

To reach the sky high accommodation, campers have to climb up via a laddered ferrata trail (and down with the assistance of zip lines).

The pods are spacious but by no means palatial, measuring just over 7m long and 2m wide, each containing a bedroom, a dining area and a private bathroom, separated by an insulated wall. Glass walls all round afford awe-inspiring views of the world below, while a small landing platform above offers an ideal picnic spot for adrenaline-seekers.

Whilst the environmental footprint of the capsules have been called into question, there is no doubt that taking in the Sacred Valley from such a vantage point would be a unique experience. Here, at least, Airbnb has serious competition.