Futureproofing: Oyler Wu Collaborative design a new creative laboratory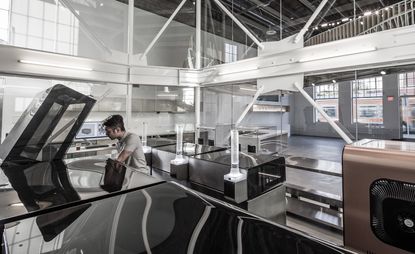 (Image credit: press)
Old meets new in Hollywood with the opening of 3DS Culinary's new creative laboratory, designed by Oyler Wu Collaborative. 'The space was about applying 3D printing to food,' explains Jenny Wu, principal of the Los Angeles-based firm. 'We wanted to make sure that our design echoed that same theme of trying new things in terms of techniques and fabrication.'

In response, the firm stripped a 1928 neoclassical bank building down to its basic form, leaving only the concrete vault, masonry exterior walls and exposed steel roof trusses. Inside, a two-storey glass space outfitted with about a dozen 3D food printers, a demonstration kitchen and a dedicated showroom complete this modern experimental Eden. Oyler Wu's intervention gave the space the contemporary edge it needed to house 3DS Culinary's futuristic endeavors.

As a pièce de résistance, Oyler Wu also fabricated an intricately woven guardrail of white linear steel and CNC milled finished plywood panels, climbing up the stairs and twisting to form the seating surfaces on the edge of the mezzanine.

No piece of the guardrail is the same, explains Wu. The firm had used a CNC bender to manipulate the long curved pieces and filled the individual steel pieces by hand. 'There was a lot of back and forth between the manual and digital,' says Wu. The firm's months of work on the fabrication paid off – their futuristic design offsetting the beautiful neoclassical building, showing how classic really can meet contemporary.
INFORMATION
For more information, visit Oyler Wu Collaborative's website (opens in new tab)