The Oslo Architecture Triennale celebrates ideas over new products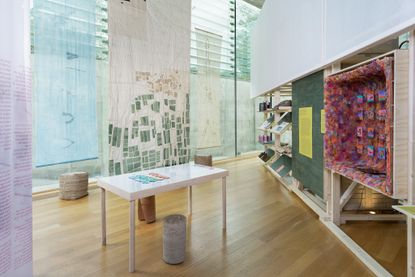 (Image credit: Istvan Virag)
The seventh edition of the Oslo Architecture Triennale has opened in the Norwegian capital. Entitled 'Enough: The Architecture of Degrowth', it is based on a straightforward yet compelling premise – that the pursuit of unconditional GDP growth is leading to environmental catastrophe and that business as usual is failing the majority of our planet's inhabitants. 'Studies going back to the 70s show that swelling GDP above a relatively modest level does little to improve life expectancy, social progress, life satisfaction, happiness or equality,' said one of the Triennale's four curators, engineer and architect Maria Smith, at the opening. 'Most of economic growth is just making the rich richer'.

On its opening weekend the Triennale demonstrated how it wanted to do things differently, how it wanted to be 'an architecture festival for the whole body, not just the brain,' in the words of co-curator and architecture critic Phineas Harper. Yes, there was the inevitable – and fascinating – main exhibition in the city's National Museum of Architecture (more on that in a moment), but above all there were workshops, guided walks, performances, talks, debates and film screenings located in four designated 'degrowth institutions' (a library, a theatre, an academy and a playground) as well as other venues around town. This programme will continue throughout the full eight-week Triennale with the aim of engaging, demonstrating and, above all, sharing ideas and realities around the degrowth theme.

The more immersive, playful and interactive strand of the Triennale was curated by urban researcher and artist Cecilie Sachs Olsen and includes a series of clever participatory games as well as an audio walk called 'Place Listening' created by Sachs in collaboration with artist Nina Lund Westerdahl out of a series of workshops held in Oslo earlier this year. The walk challenges the listener to slow down and think actively about the city they find themselves in and ask why so much of it is designed around consumption rather than coexistence. What would you want to see go up in an empty plot of land it asks the listener/walker as you pass by a vacant lot. Do certain areas make you feel excluded or safe? Have you made any eye contact with passers-by today? Why is play proscribed to playground areas and suitable only for children?
The main exhibition, called 'The Library', is located in the National Museum of Architecture, a former 1830s bank adapted and extended with a concrete and glass pavilion by Norwegian architect Sverre Fehn. 'The Library' celebrates the sharing, de-commodification, and democratisation of goods and ideas and takes the idea of reuse to the next level, to start with, in the exhibition design itself. 'The first thing people asked us is: you won't be building anything new then if your theme is degrowth,' says architect and the fourth co-curator of the Triennale, Matthew Dalziel, 'and the first thing we were faced with, paradoxically, was having to build an exhibition!' The exhibition design is accordingly almost entirely 'remetabolised' from elements found in the museum's basement and left over from a previous landscape design exhibition held in the venue designed by Snøhetta. What's more, the materials will be made available to others once the Triennale is over.
RELATED STORY
Within the niches, shelves and spaces created by this simple but effective plywood and cotton fabric structure, devices, materials, drawings, models and prototypes showcased a future that will necessarily be collaborative. The space investigates the life of a well-known Oslo squat for instance, a community centre focusing on 'Dugnad' (mutual support in Norwegian) and local self-determination, or an idea for a civic launderette, where an activity now commodified and desocialised might once again become a more collective and less isolated ritual where resources are centralised.
A number of projects showed various ways forward in terms of reuse of existing materials too. One that stood out was a prototype by Milan-based design studio GISTO who had scoured a former army base in northern Italy scheduled for partial demolition for materials that could be turned into simple self-assembled furniture on a semi-industrial scale. 'A little bit like an IKEA for the recycling era' explained Alessandro Mason, founder of the practice. Windows had been turned into desks, shelves and tables, plywood and ventilation covers into sculptural room dividers, carpet into acoustic walls and slabs of marble into benches, and a manual with a methodology that could be applied to similar future projects had been produced.

'Enough' has only just begun, but already it has created a new model of Triennale: one that celebrates the sharing of ideas and knowledge over and above the creation of new products and buildings and that offers inspiration, optimism and ideas for an alternative to our current consumption-centric and growth-based economic system. That in itself is an achievement.
INFORMATION
oslotriennale.no (opens in new tab)