First look into OMA's Fondaco dei Tedeschi department store in Venice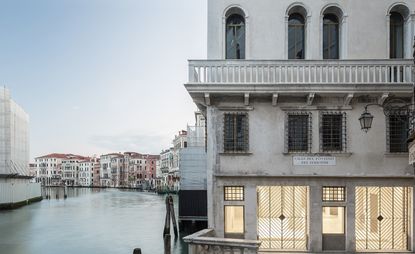 (Image credit: Delfino Sisto Legnani and Marco Cappelletti)
A highly anticipated Rem Koolhaas/OMA project to reconceive and redesign the Fondaco dei Tedeschi in Venice as a department store – a project commissioned by the Benetton family's property group in 2009 – is now coming to the end of its six-year-long schedule. Wallpaper* paid a visit during the opening week of the 15th Venice Architecture Biennale before the building was handed over for fitting out by the tenant, DFS Group, in a tour courtesy of project partner-in-charge Ippolito Pestellini Laparelli.

OMA's exhibition 'Cronocaos', for the 12th International Architecture Biennale in 2010, demonstrated architects' fascination with old buildings and the special challenges involved in their renovation. Prime examples set by Koolhaas in recent years have included the Fondazione Prada in Milan and the Garage Museum for Contemporary Art in Moscow.

The Fondaco dei Tedeschi was built in 1228 and has since seen service as a trading post for German merchants in the 16th century and a customs house in the 17th century, before being converted last century into a post office. Over the years, it has undergone radical structural changes and was then listed as a 'Monument' in 1987, which restricted further permissible alterations.

The 9,000 sq m space maintains the traditional concept of a covered urban area, while the renovated 19th century pavilion over the central courtyard is supported by a new steel and glass floor. Authenticity has been preserved by retaining many important historic features, such as the corner rooms, and resurrecting others such as the galleries, which will once again become a surface for frescoes, reappearing in contemporary form. In order to encourage circulation to the building, new entrances from the Campo San Bartolomeo and the Rialto have been created, while the existing entrances into the courtyard have been retained for the locals; escalators are also in place to create a new public route through the building.
OMA created a new rooftop by the renovation of the existing 19th Century pavilion at the top and the addi­tion of a large wooden terrace, now offering spectacular views over the city. Both this and the central courtyard below will remain open to the public.

Department stores, as quasi-public buildings, have often been the focus for various different artistic disciplines and OMA, too, plans for the project to be a mixture of the artistic and the commercial. London-based Jamie Fobert Architects is responsible for the retail concept and the store is due to open this autumn.
INFORMATION
For more information, visit OMA's website (opens in new tab)

Photography: Delfino Sisto Legnani and Marco Cappelletti