New strategies: AIA NY shows contemporary Chilean architecture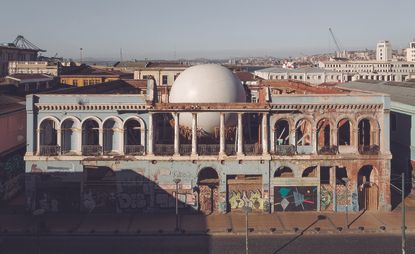 (Image credit: Cristobal Palma)
Chile is in the architectural spotlight, thanks in part to this year's Pritzker Prize winner and Venice Architecture Biennale director Alejandro Aravena, whose Santiago-based firm Elemental is particularly focused on social housing. But Aravena isn't a lone star: he's part of a large collective of passionate, strong designers in the comparatively small country, including Mathias Klotz, Smiljan Radić, and the husband-and-wife team of Mauricio Pezo and Sofia von Ellrichshausen, to name just a handful.

Chile's 'vibrant, autonomous architectural tradition', as MoMA director Glenn Lowry described it, is succinctly expressed in a travelling exhibition at the AIA New York Chapter's Center for Architecture that just opened and runs until early September. 'EXTRA-ORDINARY: New Practices in Chilean Architecture' highlights 17 projects built in the last five years by Chilean architects working in the country, from temporary pavilions to offices, housing and responses to the 2010 earthquake that killed more than 500 people.

These designers have taken up the mantle of their 1960s forebears by dedicating themselves to the challenges of housing, education, urban planning and the deep segregation between rich and poor. But they also experiment with emerging materials and digital tools to create new programs and solutions. This re-flowering has its roots in the 1990s, after Augusto Pinochet's 'cultural blackout' ended with his exit from the presidency.

Encompassing five categories – temporary architecture and art installations, technological and material explorations, formal and spatial explorations, new programs and reuse – the projects are represented by photographs, renderings and text in panels around the Center's ground floor gallery. Most successfully, the exhibition's curators, Chilean architects Jeannette Plaut and Marcelo Sarovic, designed what they call 'pylons' for more intimate viewings of each project. Black triangular boxes are set on poles in the centre of the gallery at eye level, each containing a video or slideshow of one project, drawing visitors into its world for a few moments.

One of the more striking projects is 'The Singular Patagonia', a former cold storage and sheep processing plant in southern Chile that opened in 1915 and was transformed into a hotel in 2011 by architect Pedro Kovacic. He preserved much of the factory in a museum-like setting, and therefore the memory of what was once a small 'company town'.

Plaut and Sarovic also direct the Young Architects Program (YAP) in Santiago, one of the international offshoots of MoMA and MoMA PS1's annual summer programme that encourages young architects to design temporary, innovative projects. This year's winners in Santiago, Guillermo Hevia and Nicolás Urzúa, created a pavilion made of curving walls of mirrored steel that distort its surroundings and serve to 'disappear' its structure.

'Chile is just a ravishingly beautiful country,' said Glenn Lowry, speaking at the opening of the exhibition. 'The landscape is just in your face all the time, in part because you have this spine of the Andes that is almost always visible.' Hevia and Urzúa's was one of the most successful YAP pavilions, he said – one of those that 'tend to ask you to imagine different ways of conceiving and imagining architecture'.
INFORMATION
'EXTRA-ORDINARY: New Practices in Chilean Architecture' is on view until 3 September. For more information, visit the Center for Architecture's website (opens in new tab)
ADDRESS
Center for Architecture
536 LaGuardia Place
New York, NY 10012