Norway remembers 2011 Utøya massacre with a tribute to nature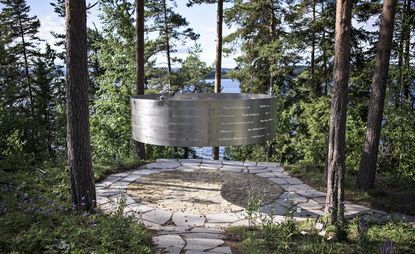 (Image credit: TBC)
Thursday 22 July marks the fourth year anniversary of one of the most tragic events in contemporary Norwegian history, which took place on the beautiful Utøya island. Following the massacre that shook Norwegians and the international community alike, Bergen practice 3RW won the competition to design a memorial to honor the memory of the deceased, while celebrating the island's beautiful nature.

Located by the Tyrifjorden lake, 40 km from Oslo, the memorial was built following 'dugnad' - a tradition that called for a community to work together, and in this case, for the close collaboration between the architects, the victims' relatives, survivors of the incident, and veterans of the Workers' Youth League (who own the island). This process was part of the architects' design to deal with the painful incident - in their view, it was as important as the final built product.

Strategically located on the hill to the North of Utøya's reception buildings, the memorial is designed as a circle that is carved into the sloping landscape amongst dense pine trees and overlooking the lake.

The 114 sq m area is carefully landscaped with a stone path, meandering through poppies, echinaceas, calliopsis and several other plants - all of which were carefully chosen to attract different species of butterflies. Four pine trees bear the weight of 60 victims' names, cut out on a steel ring seemingly floating above the butterflies' feeding ground. Defined by the light that shines through it, the shadows of the names are projected onto the ground and foliage surrounding the ring.

Skirting the site's periphery is a slate-clad bench, carved out from the ground. This circle was designed to focus onto the island's different qualities: from dense forest, to a clear view over the island of Sørbråten - where another national memorial is planned - and the sound of water.

The memorial's strong presence helps remember the tragic incident that took place elsewhere on the island, and at the same time celebrates what makes Utøya unique - its nature.
Receive our daily digest of inspiration, escapism and design stories from around the world direct to your inbox