New Court, Rothschild London HQ, by OMA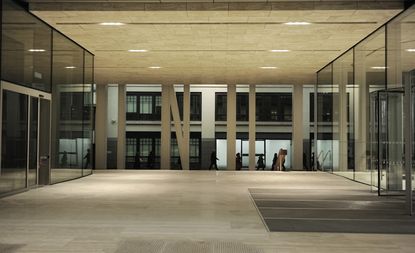 (Image credit: TBC)
Taken in from Wallpaper* HQ, OMA's new home for Rothschild (the practice's first London building) seems the most exciting addition to the 'City-scape' in years. What makes New Court such a winner, perhaps surprisingly, is its restraint in scale and effect. A ten-storey mesh cube with various annexes, topped by a two-storey 'sky pavilion', it displays a lightness of touch that is certainly missing from the Walbrook Building, Foster's still unoccupied heavy-metal blob it overlooks.
Nathan Mayer Rothschild first moved to the St Swithin's Lane site, just round the corner from the Bank of England, in 1809. This fourth headquarters for the family firm, now a financial advisory company, opened its doors at the tail end of last year. Last week, lead architect Ellen van Loon took us on a tour.
Given the lane is a skinny medieval cut-through, it's hard to take in the façade at street level. What you do get is a marble forecourt and, for the first time in 200 years, views through to Wren's St Stephen Walbrook church.
On the right is an oak-panelled archive and, to the left, a large new lobby. OMA were also commissioned to design the building's interiors, a rare privilege on a big City development. Here in the lobby, and in various meeting rooms, they have had some fun with the company's history.
There is plenty of metal - mostly aluminium and brass as a nod to the bank's long association with cold, hard commodities (the price of gold was, until recently, fixed at New Court). Metal walls are embossed with abstract impressions of the oak panels that were central to the old decorative order. Meanwhile, family portraits and Queen Anne furniture are installed in glass-box meeting rooms.
As one architecture critic pointed out, this does give the building the feel of a boutique hotel in places. Armies of wait staff trundling to and from the large kitchens and the director's dining room add to the effect (Not to mention the whiff of beef Wellington and Eton mess in the air).
This is a building that makes the most of its position, with incredible views across the City and towards St Paul's. And the best views come from the 'sky pavilion', each of its two storeys double height. It is already a popular event space with its just-lofty-enough aspect. In fact, the whole building seems perfectly pitched.
Receive our daily digest of inspiration, escapism and design stories from around the world direct to your inbox