New take on the Greek beach house by Athens based R.C.TECH
Athens based architecture studio R.C.TECH offers a new take on the classic Greek beach house with a single-level volume of interlocking shapes, designed with holiday memories in mind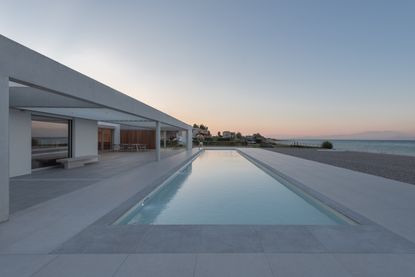 (Image credit: Athina Souli)
On a flat piece of land along the coastline of the Northern Peloponnese region in Greece, overlooking the Parnassos mountain to the north, a single level holiday house stretches out along the coastline, with a beach-side swimming pool running parallel to the sea. Designed by R.C.TECH, the holiday house was designed for a young family in love with the Greek coastal landscape.

The peaks and angles of the white pitched volume and the exposed concrete pergola create a moment of interest in the largely flat landscape, where the sea and the horizon are the only elements of context. The shape of the house is a product of the interior and exterior rooms that interlock to create a diverse number of spaces. The architects see each unique room in the house as a device for making holiday memories.
The architecture balances a coastal lifestyle – where people gather together for late breakfasts at midday and games of cards in the evenings, with quiet and private moments for reading and thinking. While each space has been carefully thought out, the plan is remarkably simple. Two wings for sleeping extend out either side of the central yellow front door. At the heart of the plan is the living space – where kitchen, living and dining are softly separately by the open fireplace, and the two large cylindrical skylights that bring daylight into the kitchen and dining spaces.
An extension of the interior, the outdoor living space sites between pool and indoor living room. Defined by the concrete frame of the pergola, the terrace is orientated towards the beach and the sea, while to south a small courtyard forms a quiet sanctuary.

For R.C.TECH, designing a beach house is serious business – a holiday home is a very special place, where family memories are made and identities are formed. The yellow door for example was designed as a memorable feature for children, while the interplay of shadows and sunlight created to encourage contemplation in time, nature and the earth.
INFORMATION
rctech.gr (opens in new tab)