Mirror image: Casa Invisibile launches Delugan Meissl's prefab concept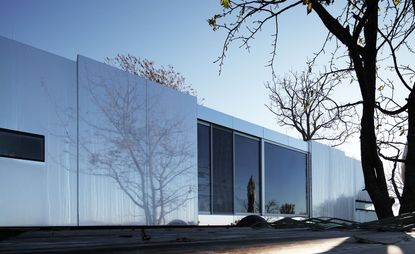 (Image credit: press)
Casa Invisibile is a cost-efficient housing concept by Vienna-based Delugan Meissl Associated Architects, which offers a resolution to the age-old predicament around the relationship between a building and its context by proposing a design 'for turnkey implementation at any designated site'.

'Invisibility', in this design, is achieved through two key approaches: On one hand, the scheme leaves a minimal footprint, due to its lightweight nature and ability to function as a mobile home (reducing planning restrictions). At the same time, mirrored cladding helps the structure seamlessly blend into the scenery.

Build in standardised 14.5 x 3.5 x 3.1m prefabricated modules (45sqm) - for exact fit onto the back of a lorry - there are currently two prototypes in existence, both situated in rural Slovenia. Mass production is a key future aim for the firm. The lightweight structures are easy to assemble and relocate; DMAA suggest the house could be raised on stilts, propped up on steep hillsides, or simply sat upon flat ground. The basic model can be added to, in order to extend the living space within, generating a bespoke personalised space.

The build is simple. An Alucobond (aluminium sandwich panels) façade is fitted onto a basic insulated wooden shell. Whilst the mirror-finish promotes 'invisibility', a choice of different coloured panels is also available. The interior pinewood finish comes in a range of possible tones, whilst various options for internal fittings and external additions - such as fireplaces and terraces - ensure each home is tailored to the homeowner's needs.

The interior is divided into three zones; sleeping quarters lie at one end, separated from the living room by an optional fireplace; living space occupies the middle zone, with two wide sliding doors allowing plenty of sunlight in; a utility space is sectioned off at the other end of the house, with doors leading into a bathroom and storage, the only closed off areas in an otherwise open, flexible floorplan.

The layout of Casa Invisibile was designed to be fundamentally practical - offering just the right amount of space to accommodate the activities inside - while the smooth continuous timber surfaces and minimal interior decor contribute equally to the house's simple, yet texturally rich aesthetic.