European architecture up for debate in Barcelona
We dispatch from the Mies van der Rohe architecture award ceremony in Barcelona where architects from 38 countries join to discuss the future of architecture and urbanism. From a reimagining of a communist square in Tirana, to the redevelopment of a 1960s housing estate in Bordeaux and a co-living co-creating concrete block in Berlin – we make our own edit of some of the worthy and wonderful 40 shortlisted projects.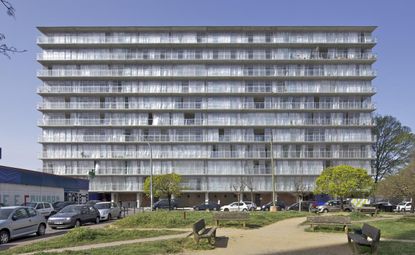 (Image credit: Philippe Ruault)
'Living together' and 'common space' were the tangible common threads at the finalists' event for the EU40 Mies Award 2019, an architecture prize that is presented every two years.

Out of the nearly 400 projects put forward, which are selected by official architecture associations and experts from 38 countries, only 40 are shortlisted and a handful become finalists. In a fin de siècle hall in Barcelona, a few steps from Mies van der Rohe's groundbreaking German Pavilion, six different studios presented what the jury considers to be some of the best of contemporary European architecture.

It's difficult to disagree with their choices. Plaza Skanderbeg, by 51N4E, has banished cars from the centre of Tirana and provided the city with a vast meeting space with forests, water and movable seats made for sharing. In Berlin, the ziggurat-shaped Lobe Block by Brandlhuber + Emde almost forces the idea of co-living and mixed use through its bifurcated staircase, large terraces and living/working spaces that stagger in size over the levels.
Architecten de Vylder Vinck Taillieu put forward architecture that heals with PC Caritas, a defunct psychiatric facility the studio transformed into a serene space for patients and carers with greenhouses and sheltered terraces. The French BAST studio took the Emerging Architect prize for the addition of an ethereal, transparent refectory to a public school in rural France, a project they described as using 'minimal gestures for maximal effectiveness.'

The winner of the EU40 Mies Award 2019 also dropped in France for Lacaton & Vassal's astonishing transformation of a vast 1960s block of 530 public housing dwellings in Bordeaux. The project, which will become a benchmark in how to make out-dated social housing more liveable, transformed the lives of the inhabitants inside (who were previously consulted before work began) with the addition of an second façade whose void added 53 per cent of living space in the form of an enclosed terrace with amazing views.

'I propose a new definition of urbanism and architecture,' said Anne Lacaton, at the close of her presentation, which received a standing ovation. 'We need to create a discipline for the fusion of the inside and outside,' she explained, before thanking Mr and Mrs van der Rohe, for the award.
The Wallpaper* edit of the 40 shortlisted projects...
INFORMATION
For more information, visit the EU Mies Award website
Receive our daily digest of inspiration, escapism and design stories from around the world direct to your inbox