Micro living: Nice Architects launch self-sufficient 'Ecocapsule'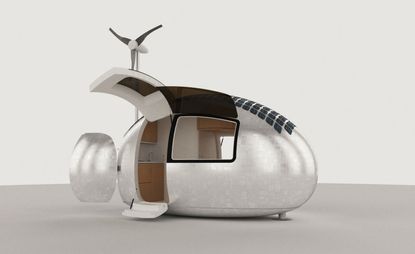 (Image credit: TBC)
If you could live anywhere in the world, where would you go? Whatever your answer, Nice Architects (opens in new tab)' new 'Ecocapsule' could make that a reality.

The spaceship-like container is in fact a mini apartment – a radically downsized alternative to conventional housing – set up with all the luxuries you would expect from a mobile home. (Albeit a far prettier version than its contemporaries.)

Six years in development, the Ecocapsule generates its own clean energy and can be situated anywhere; from tundra to city, woodland to seashore. It started as a small housing unit for artists back in 2008 and has evolved into the self-sufficient pod we see now, fully equipped with the necessary systems for long-term independence.

Marrying form and function with a modern aesthetic, everything about the Ecocapsule is designed with efficiency in mind. The curved shape allows for the collection of rainwater, which is filtered for human consumption. Solar cells – which cover the roof – and a retractable 750W wind turbine provide reusable energy, charging the onboard batteries. As it complies with shipping container regulations, it is simple to transport. (Though plans to add a wheeled chassis for greater mobility are in the works.) The 8 sq m interior may seem a little less than modest, but the capsule houses all the essentials of a comfortable living space: a folding bed, a workspace/dining area, en-suite bathroom, kitchenette and storage.

Since being unveiled at the Pioneers Festival in Vienna a few weeks ago, the functional pod has captured the imagination of thousands. Preorders have reached well into triple digits – significant kudos for a product not due to hit the market for another year.

The obvious benefits of a ready-made home like this clearly and immediately relate to modern urban problems – housing shortages in high rent areas, for example – but it's possible use in emergency situations, like earthquakes, could be far more interesting and significant.