Driving force: HOK pioneers the return of innovative stadium design in Atlanta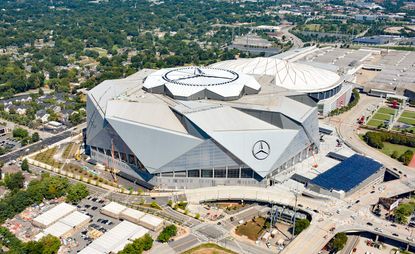 (Image credit: press)
American Sports stadiums have a long history of innovation, including the world's first retractable roof sports stadium (Pittsburgh's now-demolished Civic Arena, 1961), the first multi-purposed domed stadium (Houston's Astrodome, 1965), and North America's first retractable grass field (University of Phoenix Stadium, 2006).

But with few exceptions, that spirit of innovation has experienced a lull, according to HOK design principal Bill Johnson, brought on by a sense that nostalgia, luxury boxes, and larger and larger jumbotrons have become more important than spectacular design. That is, until the opening of his firm's Mercedes-Benz Stadium in Atlanta, home to the Atlanta Falcons football team and Atlanta United FC soccer team.
The signature of the new facility, located just next to Atlanta's Georgia Dome on the western edge of Downtown, is its 'Ocular Roof', which features eight ETFE-clad petals that slide past each other simultaneously on steel trusses, simulating an opening flower or camera aperture, and eliciting more than a few gaping expressions. The apparatus – emblazoned, of course, with the Mercedes-Benz logo – can open or close in about ten minutes.

'The most important spot on the football field is the 50-yard line,' says Johnson. 'We thought, "What if we created a roof that opened from the centre and moved away?"' Another inspiration, it turned out, was the Pantheon in Rome, whose central oculus was designed to focus light, and attention, on the emperor's entry.

The roof's lightweight ETFE membrane allows natural light to filter inside, as does the building's 'Window to the City', a floor-to-ceiling glass curtain wall that directs views east toward Downtown Atlanta. The rest of the stadium contains eight triangular steel and glass sections whose angular sides echo the logo of the Atlanta Falcons, and create a stunning imprint on the Atlanta skyline.

The stadium does still contain a jumbotron. But HOK rethought that too, creating what it calls the 'halo board', a six storey-tall, curved screen ringing the circumference of the roof opening. Digital displays change and move along its length, creating unique views throughout the seating bowl.

Moving through the stadium, you experience more surprises, from an art collection of more than 50 pieces, curated by the nearby Savannah College of Art and Design (SCAD); to a 'front porch', a public plaza just outside the structure highlighted by a 41ft tall, 73,000 pounds steel falcon sculpture.

'We said from the outset we wanted a building that was unique to Atlanta and didn't fit the phrase "this reminds me of",' says Rich McKay, president and CEO of the Atlanta Falcons. If this place reminds you of something else, please let us know.
INFORMATION
For more information, visit the HOK website
Receive our daily digest of inspiration, escapism and design stories from around the world direct to your inbox