Wang Shu's Lin'an Museum combines tradition and modernity in China
Inspired by Chinese landscape paintings and vernacular architecture, the Lin'an Museum designed by Amateur Architecture Studio uses traditional materials and building techniques to forge a modern museum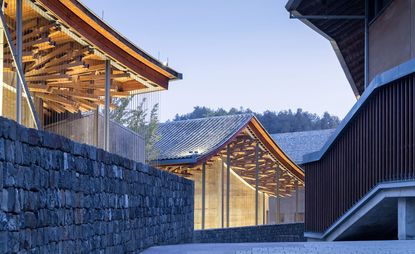 (Image credit: Iwan Baan)
Lin'an Museum is the latest project by Amateur Architecture Studio, a practice founded by Pritzker-prize-winning architect Wang Shu and his wife Lu Wenyu. The small town of Lin'an, 60km west of the provincial capital, Hangzhou, commissioned the architects to design a museum to house its collection of ancient artefacts belonging to the Qian family.
The project comprises a commercial block, featuring shops selling local crafts, to the north, and the museum complex to the south. Both wings provide protection from the main road and create a secluded garden, parkland and lake open to the public.
Wang Shu is dean of architecture at the nearby China Academy of Art in Hangzhou and this building is a development of his interest in local craftsmanship and urban memory. Each building is a kaleidoscope of different materials; from those materials traditionally found in the regional residential vernacular: brick, stone, rubble, gravel, mud, wood, and reclaimed tiles; to more contemporary materials like steel, concrete and plaster.
To memorialise the original farming use of this site, the architect's concept was inspired by the forms of 'villages, farmlands and modest dwellings'. The massing of the buildings reflects the idea of 'architecture as mountain', in juxtaposition to the dramatic Gongchen Mountains to the east and the lake to the south. Wang has created a design reflective of traditional Chinese landscape paintings.

After entering the museum from the south via the main plaza, the visitor is guided through a series of individual museum halls with curved pitch roofs and dramatic eaves structures reflecting a simple residential architectural style. Each new hall, hosting different aspects of the Qian family history, zigzags up the gently sloping site. Occasionally, the route opens onto external bridges and walkways similar to those in Xiangshan Campus in Hangzhou, the building that first brought Wang Shu to the world's attention.

Lin'an Museum envelopes the site to form a protected space within, and there are a number of deft ancillary structures: teahouses, service centres and toilet blocks that fit into the landscape without distracting from it. As an overall collection, it is a masterclass in appropriate design responses to site. For anyone on a Wang Shu pilgrimage, this building should definitely be on your list.