Interactive floorplan: Shingle House, Dungeness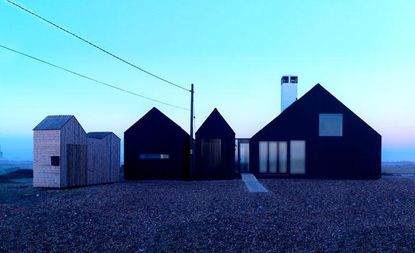 (Image credit: press)
Sleeping in a place changes your perception, according to the writer and philosopher Alain de Botton. And there can be few better examples to illustrate his point than the Shingle House, a new and holiday-hire haven of warmth and homeliness in the barren British desert that is Dungeness.
The Shingle House, by Scottish architecture group NORD, is the latest commission by de Botton's not-for-profit venture Living Architecture. Aiming to create more opportunities for people to experience fantastic contemporary building design, the organization is amassing a portfolio of new houses in some of Britain's more astonishing and beautiful landscapes. So far completed are MDRDV's Balancing Barn and Jarmund/Vigsnæs Architects' In-Between House in Suffolk. Soon to come are The Long House by Hopkins Architects in Norfolk, and the eagerly awaited Secular Retreat in South Devon by Peter Zumthor, the architect also commissioned for this year's Serpentine Pavilion.
So the Shingle House was never going to be your average self-catering cottage, duck, no. In Dungeness, the world's largest stretch of shingle, a bleak but beautiful desert with a roaring soundtrack of white noise provided by the sea and the wind, a smattering of black tarry fisherman's huts hunkering down under the horizon and a vast great grey smoking monster of a concrete nuclear power station breaking out above it. There are two lighthouses blinking in the distance, a few seemingly abandoned wooden boats and random pieces of machinery. There is plant life - what hardy species can survive the barren conditions - and there are birds. Beyond that, there is little to break the panoramically flat horizon. It is breathtakingly stunning.
Conservation authorities are rightly highly suspicious of anyone who might want to organize some unwelcome shingle-shifting on the wasteland, and keep a hawk like eye over any (rare) development in the area. NORD's plot has been allowed as a replacement dwelling – in this case filling the spot previously occupied by a tiny fishing cottage, its smokery and shop.
Standing out on the landscape like a cartoon drawing in silhouette, the Shingle House is all pitched triangular roof and oblong base, its huge windows glowing squares of orange light on the black-tarred shingle facade. In fact, the tar and simple structure are traditional features in these parts, so the otherwise starkly contemporary design blends in surprisingly well. Keeping its pitch well below the parapet, as it were, the scale and composition also pays homage to its neighbours and predecessors.
The main structure consists of three distinct parts. In the first is the dining area and the kitchen, which overlooks a hidden courtyard area, sheltered and private. Next up is the bathhouse – a feature that will have many a resident queuing quite happily for its pleasures, with its beautiful sunken black concrete bath looking out to sea. Finally, the sizeable living and sleeping area, which includes three double bedrooms and a cosy living area on the ground floor, and upstairs a fourth bedroom and a mezzanine living room where guests are likely to lose hours simply staring through the picture window at the mesmerizing view.
The luxury of designing a house for holidaymakers, says NORD's Graeme Williamson, is not only that you are free from many of the practical constraints (such as excessive storage, or, we imagine, the type of overbearing clients who need to both to live in a house and to express themselves through it) but also you can furnish it to suit. Many of the details – from the door handles to the Shaker-style wooden pegs that run a regular around the walls, are bespoke to the house.
Every element of the interior has been carefully considered, which is as starkly white as the exterior is black, yet, in stained oak and concrete, is unrelentingly warm and organic, never clinical. In the bathrooms, the white tiles are aligned perfectly with (and are identical width to) the oak boards. Concealed lighting is understated and soft brass fittings show just enough human wear to be comforting.
Whatever the weather - and the weather is considerable here - a perception-changing sleep or two in Dungeness is highly recommended. And a brain-stimulating bathtime as well.