Serving the arts: Wim Pijbes introduces W* to the Museum Voorlinden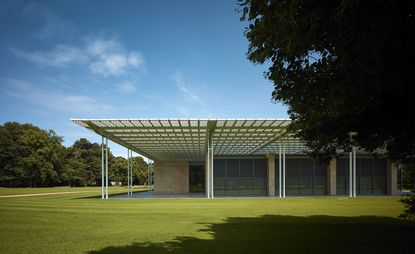 (Image credit: Pietro Savorelli)
It was hard to imagine what the next step could be for a director of one of the world's most prestigious national museums. But the art historian and former head of the Rijksmuseum, Wim Pijbes, surprised us with his role as general director of Museum Voorlinden in Wassenaar, the new home of Dutch businessman and avid collector Joop van Caldenborgh's private art collection.

'My dream is to combine nature and art in a museum,' says Pijbes and the 40-hectare estate of Voorlinden is the answer to his vision. The new museum building is designed by Rotterdam-based architecture studio Kraaijvanger and sits in a field bordering the forest; a long sand-coloured building that incorporates 6,700 sq m of exhibition and activity space.

'It's a symmetrical, single-level space with white walls and many square rooms,' says Pijbes, 'It's a very clear, modern-style building. Mr van Caldenborgh's idea was not to have a star architect – the arts always come first.' He adds, 'What a museum needs are walls, light and proper spaces. And yet the building is not anonymous – it has colour, form, texture – everything is just pure and beautiful. It's truly a building that is meant to serve the arts. It is haute-couture architecture, truly made to measure.'

The façades are made from alternating glass and stone, the transparency connecting the inside and outside, bringing the art of nature into the exhibition space. The building sits atop a plinth made from the same stone. An ingeniously constructed roof is supported by a white steel colonnade that surrounds the building. Paradoxically, perhaps, this modern structure includes several classical references, from its symmetrical presentation to its grid-savvy proportions, the front portico to the Greek temple-style columns on one side.

The museum comprises 20 galleries, each featuring a generous 5.3m-high ceiling. More than 115,000 diagonal ducts are arranged over the glass roof, allowing the bright light of the Dutch coast to fill the building. Additional indirect LED lighting ensures there is always optimum light for the artworks, whatever the time or weather.

The museum will open with an exhibition of the late minimalist painter Ellsworth Kelly by Dutch curator Rudi Fuchs. 'We want to begin our journey with artists who are strong in the collection, which made Kelly a natural and organic start for us,' says Pijbes. The artist's 1959 painting Blue Ripe is among the first works that van Caldenborgh acquired. Thirty paintings and a series of works on paper have been selected for the exhibition, which is the first in the Netherlands since the artist's work was presented at Amsterdam's Stedelijk Museum in the late 1970s.

The artistic director of Voorlinden, Suzanne Swarts, curated the inaugural collection presentation 'Full Moon', opening with Dutch painter Jan Sluijters' Maannacht ('Moon Night') from 1912. Forty works are selected from the immense collection, from early 20th century paintings to contemporary pieces, from Dutch to international, from living to late artists, from the famous to the lesser known. Jan Sluijters, Andy Warhol, Rineke Dijkstra, Yves Klein and Ai Weiwei are all juxtaposed harmoniously.

The biggest installation in the museum, Richard Serra's Corten steel sculpture Open Ended (2007–2008) is housed in a gallery made to the artists' specifications. Other artworks on permanent display include Leandro Erlich's Swimming Pool, Ron Mueck's hyperrealistic Couple Under an Umbrella and Roni Horn's Untitled glass sculptures (2012-2013). Oh, and don't forget to look for the humorously hidden piece by Maurizio Cattelan.
INFORMATION
For more information, visit the Museum Voorlinden's website
ADDRESS
Museum Voorlinden
Buurtweg 90
2244 AG Wassenaar
Yoko Choy is the China editor at Wallpaper* magazine, where she has contributed for over a decade. Her work has also been featured in numerous Chinese and international publications. As a creative and communications consultant, Yoko has worked with renowned institutions such as Art Basel and Beijing Design Week, as well as brands such as Hermès and Assouline. With dual bases in Hong Kong and Amsterdam, Yoko is an active participant in design awards judging panels and conferences, where she shares her mission of promoting cross-cultural exchange and translating insights from both the Eastern and Western worlds into a common creative language. Yoko is currently working on several exciting projects, including a sustainable lifestyle concept and a book on Chinese contemporary design.