Revisiting an architecture icon: Richard Meier's Smith House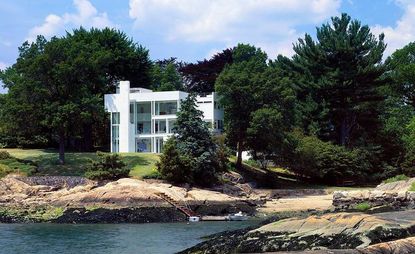 (Image credit: Scott Frances, Otto)
Richard Meier's Smith house was one of the iconic American architect's earliest forays into residential architecture. The Connecticut home, constructed for the Smith family and built between 1965 - 67, lies tucked away amongst the rocky landscape and greenery on the area's picturesque Gold Coast, situated within the small lakeside town of Darien. This is a breathraking location; and one that we couldn't resist exploring for one of our key fashion shoots for the March 2016 issue, entitled 'Between The Lines'.

This white, almost-ethereal construction proudly showcases Meier's well-loved modernist minimalism and clean aesthetics. The property's geometric layers of intersecting bright white planes, delightfully offsets the area's surrounding foliage. This visual contrast produces a dramatic effect, highlighting Meiers' ability to execute a sharp, yet beautiful juxtaposition of nature and architecture.

Within the three storey property, the living and sleeping areas are forged around a clear separation of public and private spaces. On the front facing side of the house, snug cubic rooms are dotted with strategically placed windows that make the best use of light, thus creating a comfortable interior.

The rear side, which overlooks the ocean and breathtaking cove below, boasts a delicate, transparent glass facade that allows light to flood into the communal areas of the house, seamlessly connecting the inside space with the outside environment and in result, creating a well-lit, vibrant place to relax.

The Smith House truly stands the test of time; fast approaching its 50th birthday, the construction still encapsulates effortless modernist elegance, confirming Meier's unique creative vision, flawless execution and mastery of the complex balance of proportion and light.
The full fashion photoshoot at the Smith House can be found in the March 2016 issue of Wallpaper*
INFORMATION
For more information on the Smith House, please visit Richard Meier's website