High life: meet Ten Thousand, the latest addition to LA's skyline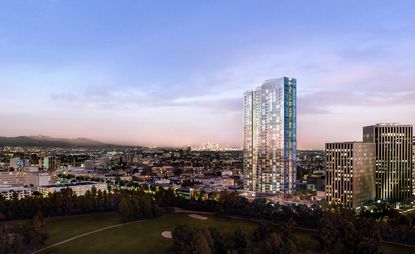 (Image credit: press)
The newest addition to the ever-evolving Los Angeles skyline is Ten Thousand, a 40-storey luxurious residential tower situated on Santa Monica Boulevard and scheduled to open later this year. Designed by Handel Architects for developers Crescent Heights, Ten Thousand's sleek aesthetic is reminiscent of the work of 20th century modernists, explain the architects, and is set to become one of the city's newest architectural landmarks.

Set in a one-acre private park and composed of four crystalline quadrants topped with a dramatic angled roof, Ten Thousand's elegant silhouette was devised to contrast the surrounding area's predominantly flat roofs. Bursting to the brim with facilities for residents, the complex offers a vast selection of 'life-enhancing amenities', including a room equipped with full service bar and restaurant, a private screening room, games room, and indoor and outdoor pools.

Aiming to encapsulate the quintessential LA lifestyle, the interior and exterior spaces of Ten Thousand are seamlessly intertwined. Open and inviting, the building's public areas are lined with floor-to-ceiling windows and equipped with internal walls decorated by Shamir Shah Design. The interiors feature natural materials, such as titanium travertine from Italy, grained walnut and cerused oak, creating a homely, yet luxurious and refined atmosphere.

The residential offerings are available in a variety of shapes and sizes; two- and three-bedroom apartments are bright and spacious due to their large panoramic windows, while a selection are available with private balconies. At the same time, corner units are designed with privileged three-façade exposure.
INFORMATION
For further information, visit the Ten Thousand website