The MAXXI launches show that puts Gio Ponti's architectu
'Gio Ponti: Loving Architecture', the new exhibition on the iconic Italian architect's work, has just opened at the Zaha Hadid-designed MAXXI Museum in Rome and takes the visitor on a jounrey across Ponti's career with a firm focus on his buildings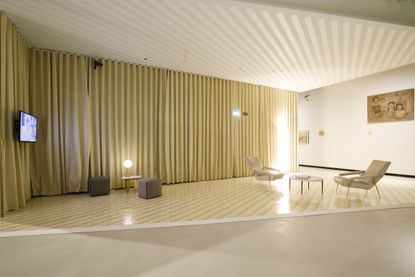 (Image credit: TBC)
Last year Paris: this year Rome. Forty years after the death of Gio Ponti, the great Italian architect, designer and publisher receives his second major retrospective in under 12 months – this time at MAXXI, the Italian capital's Zaha Hadid-designed National Museum of 21st-Century Arts.

While the Paris show, at the Musée des Arts Décoratifs, made a heroic attempt to encompass the full range of Ponti's life and work, the new exhibition at MAXXI (which opened this week and runs till 13 April 2020) focuses squarely on his architecture, with occasional asides examining his industrial and household designs and the influence of his role as the founding editor of Domus and Stile magazines.
Curated by Mariastella Casciato and Fulvio Irace, 'Gio Ponti: Loving Architecture' takes over the museum's soaring fifth-floor gallery, and overcomes the challenge of its sloping floor with ease – a testament both to MAXXI's installation team and the instantly engaging quality of the many models, drawings and plans on show.
RELATED STORY
The exhibition is divided into eight sections, examining Ponti's approach to houses, nature, classicism, facades, lightness, skyscrapers, urban planning and 'architecture as crystal', derived from his gnomic claim that 'when architecture is pure, it is pure as a crystal – magic, closed, exclusive, autonomous, uncontaminated, uncorrupted, absolute, definitive like a crystal.'

Rome may seem an odd place to stage an exhibition about Ponti, who spent most of his life living and working in Milan, but as Casciato points out, 'he was an architect of national and international renown when that was still a rarity, and he knew everyone and travelled everywhere, when that was far more difficult than it is today.'

With an essay-filled catalogue and a series of newly commissioned photo essays featuring some of Ponti's finest buildings, including Taranto Cathedral and the Villa Planchart in Caracas, this is a full-service show – as well as being an excellent excuse to visit Rome, if any excuse were needed.
INFORMATION
ADDRESS
Gio Ponti: Loving Architecture runs at the MAXXI - National Museum of 21st Century Art in Rome until 13 April 2020