Geoffrey Bawa's Lunuganga Estate offers chance to stay in the architect's master suite
Geoffrey Bawa's Lunuganga Estate opens the celebrated architect's former master suite to visitors in Sri Lanka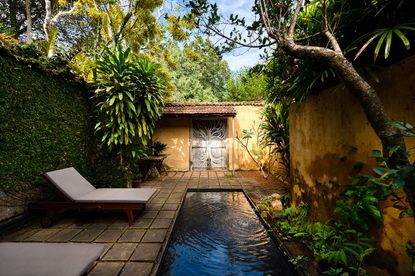 (Image credit: Lunuganga Estate)
The great Geoffrey Bawa's Lunuganga Estate includes the architect's 12-acre private country residence in Bentota, on Sri Lanka's breezy southern coast. Since the architect's death in 2003, this has been overseen by his trustees, though the day-to-day management of the sprawling gardens and manse are run by the Teardrop hotel group. While day-trippers and overnighting archi-fiends have more-or-less free rein to explore the property and the grounds, Bawa's private quarters have, until now, been off-limits. This was largely because many of his friends and associates felt strongly that his private space should remain exactly that – private.
Geoffrey Bawa's Lunuganga Estate and master suite
Twenty years have passed, along with most of Bawa's contemporaries; which perhaps explains the flurry that has greeted the recent announcement that the west wing of the main house at Lunuganga – which contains Bawa's private quarters – is now open to paying guests.
Explaining the reason behind the decision, Channa Daswatte, the chair of the Geoffrey Bawa and Lunuganga Trusts, says: 'Spaces are often best maintained when used. We felt that it was important that this space should be used, and that it would also give visitors to Lunuganga the full experience of the place where Bawa lived.'
It's a testament to the trust's careful stewardship over the past two decades that very little needed to be done to spruce up the quarters' main bedroom and ensuite bathroom, adjoining plunge pool, and reflection pool in the private garden.
Besides the installation of air-conditioning and renovating the toilet fixtures, the spaces are more or less exactly as they were in 2003, both in the decor and the placement of furnishings. 'It is as close to the original as it can possibly be,' Daswatte says. 'We avoided making too many changes to the existing finishes.'
That said, some of the more fragile artwork, which the trustees felt could not be properly looked after with continuous public use of the space, has been removed. 'But [they haven't changed] the interior scheme that significantly,' Daswatte adds. 'A new cupboard and suitcase stand have replaced a very fragile calamander-wood sofa, which is in conservation and will be housed in a future museum with other objects from the collection.'
Quite apart from the novelty of gaining an insight into a hitherto closed-off part of Bawa's life, his private quarters are a simple, yet powerful distillation of his approach as a designer – not least an instructive example of his insistence on erasing the line between interior and exterior.
Rates from $555
Daven Wu is the Singapore Editor at Wallpaper*. A former corporate lawyer, he has been covering Singapore and the neighbouring South-East Asian region since 1999, writing extensively about architecture, design, and travel for both the magazine and website. He is also the City Editor for the Phaidon Wallpaper* City Guide to Singapore.