Geometry and horticulture come together in artist Gabriel Orozco's garden design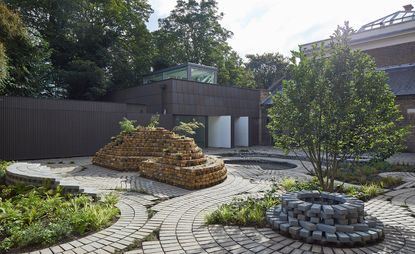 (Image credit: Andy Stagg)
Mexican artist Gabriel Orozco is known for his soft watercolour series, his abstract paintings and totemic wooden sculptures, and now it seems, he is adding horticulture to his repertoire.

'The invitation to create a garden as a permanent art work presented a unique opportunity,' explains the globetrotting artist of his latest work, the garden design at the South London Gallery.

Two years in the making and unveiled last weekend as the winter's chill takes hold of the capital, the garden was designed alongside 6a architects – the same firm behind the gallery's award-winning 2010 extension and current renovation of the former Peckham Road Fire Station – and horticulturists from the Royal Botanic Gardens of Kew.
Struck by the commitment of the gallery to its local community, Orozco set off to design a space that would help that relationship blossom, to 'create something which could provide an inspiring platform for all of them,' he says. 'I started to think about various geometries emerging from the architecture surrounding the space and how they might be re-integrated into it as the basis of a design.'

Circles – a recurring motif favoured by Orozco – form the basis of his geometric design. Intertwining rings are delicately marked out using materials that reflect and continue the physical language of the gallery's Victorian building (including bricks from the newly opened up rear facade) as a game of symmetry and asymmetry unfolds, creating in its wake a series of 'spaces' or 'rooms'. The character or purpose of each designated by the plants that inhabit it, the rise and fall of the ground beneath, and various seating options available to the public. These notional rooms will be used by other artists and, without a doubt, the neighbouring community in the coming months.

Playing on the idea of urban ruin, the garden will evolve to become rambling and overgrown, allowing the omnifarious grasses, low level creepers and fragrant plants to really grow into their own. In the meantime, working drawings and a film capturing the transformation of the garden over the past year take centre stage within the gallery itself.
INFORMATION
For more information, visit the South London Gallery website
ADDRESS
South London Gallery
65-67 Peckham Rd
London SE5 8UH