A house in Zurich questions the aesthetics of digitally-designed architecture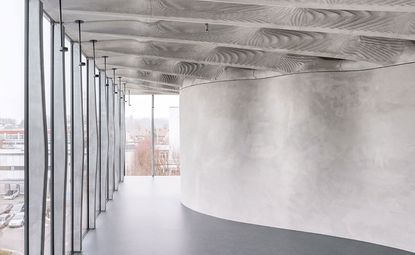 (Image credit: press)
Wallpaper* Newsletter
Receive our daily digest of inspiration, escapism and design stories from around the world direct to your inbox
Thank you for signing up to Wallpaper. You will receive a verification email shortly.
There was a problem. Please refresh the page and try again.
There's something about the DFAB House that doesn't look quite right. A bulbous upper storey swells from its base, and inside, a curvy wall with a mind of its own splices the space. None of the rooms are square. This house is a three-storey, experiment conceived through collaboration between seven ETH Zurich professorships.

The aim was to build a functional house using only computational design and digital fabrication – digitally planned and largely built with the help of robots and 3D printers. The machines themselves weren't necessarily anything new – Matthias Kohler, architecture professor at ETH Zurich, has been experimenting with them for the past 14 years, building pavilions, testing and perfecting techniques in the lab, working on exhibitions internationally.

A unique quality about the house is that it pioneers new technology at every single level – it wasn't about testing one technique, it was about testing how different techniques developed in the lab could work together. It was also about collaboration – the house happened with support from the NCCR Digital Fabrication, a Swiss National Science Foundation research programme that brings together key disciplines for future construction.

'We used three robotic and one 3d printing construction systems, three with concrete and one with timber. Architecture isn't built from a single material and construction method, it is diverse, with multiple materials that each have their advantages and aesthetic qualities. For me as an architect, it was important to show that the digital offers diverse ways to think about making, because that is what ultimately builds quality in architecture,' says Kohler. (The house passed the stringent Swiss building codes and regulations of energy use and safety with flying colours.)
Yet Kohler was equally interested to see what would happen next. What would people think of this house? The main part of the plan was it show people how digital tools affect the way we design, and to give society access to what this might mean so we can all discuss it, be intrigued by it and open-minded towards it too. He's trying to give the DFAB House as much exposure as possible to see what these results might lead to – there are daily guided tours being led, and the house is the subject of an exhibition at the Cooper Union Gallery in New York.

'Sure, there is a lot of technology out there, but for us it is important to say that because of this project, there is a new aesthetic foundation of architecture,' he says. The central part of the design comprises the 'mesh mould wall' and the 'smart slab' – the primary structural system for the building. The wall is a thin central spine that curves through the house with its very specific twists and turns. The smart slab cantilevers from it, leaving the exterior edges of the house open.
'I love modern architecture. I'm not saying everything should be curvy' – Matthias Kohler
Due to the engineering they are able to support the whole building on top. This was made possible because both wall and slab were measured and aligned to one another with an infinite digital resolution, and designed to be built with robotic and 3d printing techniques to a high degree of refinement. 'On this single curved wall, only 12cm thick, and the thin slab, the whole building rests.'

Both wall and slab were digitally optimised to reduce the amount of material used. The high degree of control attributed to digital processes means that material use across the whole design can be controlled and economised – particularly concrete as cement production currently contributes to eight per cent of global CO2 emissions. 'With digital fabrication we will leave standard construction behind. We will move away from flat walls, repetition and similar parts. It will be the same cost to do everything we hitherto called "non-standard",' says Kohler.
The DFAB House shows how digital fabrication creates a whole new 'ecology' of architecture, affecting everything from acoustics to cost, to the shape of your furniture. The collaboration with industry during the process was an important one: 'We worked with 40 different industrial partners, they all learned with us, and they are taking on this knowledge into their reality. There is a transfer happening through the building.'

So how will all of this change architecture aesthetically? That's the territory DFAB House is exploring: 'I love modern architecture. I'm not saying everything should be curvy. But if the value system changes, it's less about surface and appearance, and more about how something is made. When you choose materials, you also choose the ethics of their manufacture,' says Kohler.

The exhibition 'How to Build a House: Architectural Research in the Digital Age' at The Cooper Union's 41 Cooper Gallery curated by Hannes Mayer and Sarah Schneider of Gramazio Kohler Research unpacks the whole process of the DFAB House from research to completion. It breaks down the stages of design, fabrication and assembly, with photographs and videos, and 1:1 scale prototypes, including a façade mullion made through a digitally controlled casting process.

'As well as demonstrating the processes, we also wanted to show their inherent aesthetics. When you see the real-time footage of how the individual parts are produced – the movement of the printer and the robots, then you start to realise and value how it is done. Architecture is a reflection of our culture. It is important that the way we make things, through craftsmanship or with 3d printers and robots, can be sensed,' says Kohler.
A finished mullion sitting inside the dynamic and flexible formwork with its four parallel actuators
Detail Shot 2: The same system can shape mullions of different curvatures
INFORMATION
'How to Build a House: Architectural Research in the Digital Age' ran until 13 October 2019. Presented by The Irwin S. Chanin School of Architecture of The Cooper Union and swissnex. In association with Archtober, Architecture and Design Month New York City, October 2019. The exhibition was originally exhibited at swissnex San Francisco.
ADDRESS
41 Cooper Gallery at The Cooper Union
41 Cooper Square
New York
NY 10003
US
Receive our daily digest of inspiration, escapism and design stories from around the world direct to your inbox
Harriet Thorpe is a writer, journalist and editor covering architecture, design and culture, with particular interest in sustainability, 20th-century architecture and community. After studying History of Art at the School of Oriental and African Studies (SOAS) and Journalism at City University in London, she developed her interest in architecture working at Wallpaper* magazine and today contributes to Wallpaper*, The World of Interiors and Icon magazine, amongst other titles. She is author of The Sustainable City (2022, Hoxton Mini Press), a book about sustainable architecture in London, and the Modern Cambridge Map (2023, Blue Crow Media), a map of 20th-century architecture in Cambridge, the city where she grew up.