Celebrating Japan: an exhibition of architectonic models at La Triennale di Milano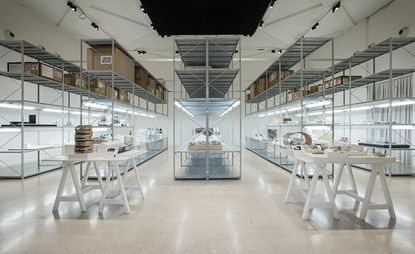 (Image credit: TBC)
Delve into the minds of 41 great Japanese architects at 'Archi Depot Tokyo' – an exhibition showcasing a range of architectonic concept models at La Triennale di Milano (opens in new tab).

The installation explores the thought processes of a number of lauded designers, revealing the way in which they attempt to create architectural masterpieces. The show – which features the work of Shigeru Ban (opens in new tab), Milan-based Setsu and Shinobu Ito (opens in new tab), Arata Isozaki (opens in new tab), Riken Yamamoto (opens in new tab) and many more – is organised by the new Japanese design company Archi Depot Foundation, which was itself founded this year by the 'culture curation site' Terrada Warehouse (opens in new tab) and Tokyo Design Centre.

Viewers are afforded an insight into the breadth of skills, past and present, inherent in Japanese architecture through the models on show; from the whimsical, tangled work of Akihisa Hirata (opens in new tab) and the intricate craft of Hiroshi Naito's (opens in new tab) sculptural gymnasium (designed for Shizuoka Prefecture's Kusanagi Sports Complex), to more conventional structures – such as Arata Isozaki's Allianz tower – and disaster relief projects in the form of Ban's Nepal project.

The exhibition also features talks from both Yamamoto and Ban, and installation design by Setsu and Ito. Through the show, the foundation aims to highlight Japan's presence at the Milan Expo and 'stimulate understanding in the relationship between architecture and the urban or natural environments'.

Following the close of the show on 19 July, Archi Depot Foundation is eventually planning to open a museum in Tokyo to house all of the influential models and archives, further helping to celebrate Japanese design and creation.
ADDRESS
La Triennale di Milano
Viale Emilio Alemagna
6, 20121 Milan
VIEW GOOGLE MAPS (opens in new tab)
TELEPHONE
39. 02 724 341