Biophilic and ocean-inspired apartment design in Amsterdam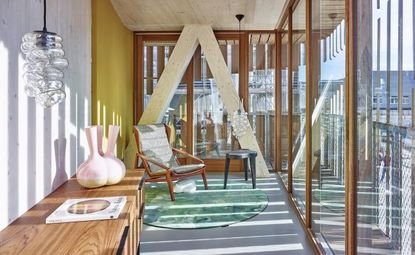 (Image credit: Michael Sieber)
For its first full foray into residential architecture, Amsterdam-based firm GG-loop drew up a design vernacular inspired by the ocean. The two-apartment development named 'Freebooter' is located at Zeeburgereiland, a triangular island at Amsterdam's east. Inside and out, oceanic references are in abundance.

GG-loop looked close to home for design inspiration, using the waterside plot as a starting point of reference. Until 1910 the site was a key docking thoroughfare for ships entering the city, and the firm wanted to evoke this local maritime history through its design. As something of a cherry on top, the name 'Freebooter' further delves into the annals of Dutch sea-faring history, crediting the historical high-sea explorer of the same title.

The development is comprised of a central block, surrounded by a prefabricated parametric façade made from a hybrid of cross-laminated timber and steel. The latter was produced offsite in the short timespan of three weeks, and takes the form of a 'ship on land'. The opening cuts can be read as waves, wind or sails.
Contrary to its speedy production time, the exterior's design is the result of a year-long study into the way light interacts with the site. Based on the firm's readings, the project assumes the optimal shape to maximise internal light distribution, whilst concurrently creating an appropriate level of privacy.

The interior certainly capitalises on the generous levels of natural light. Airy private and communal spaces unwrap around central kitchens in each apartment, all sporting bright timber and minimal black fixtures. Glass curtain walls envelope each tier, beyond which exterior balconies further bring residents closer to the water views.

In keeping with GG-loop's eco-friendly ethos, Freebooter fully embraces the practice's biophilic philosophy. The combination of sustainable materials, construction methods and energy-efficient appliances is mindful, adding an eco-conscious element to the sea-shaped narrative
Information
For more information, visit the GG-loop website (opens in new tab)