The Audain Art Museum is British Columbia's latest cultural beacon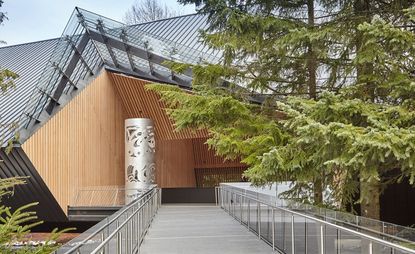 (Image credit: Martin Knowles)
Whistler Mountain in British Columbia, Canada may be better known for its sought after slopes and post-modernist buildings than its cultural offerings – but this is about to change. Following the success of the local film and writers' festivals and the Lil'wat Cultural Centre, the recently opened Audain Art Museum hopes to become a new art beacon for the region.

Audain was designed by Vancouver's Patkau Architects to house the collection of billionaire property developer and patron of the arts Michael Audain, who has donated over 40 million Canadian dollars and bequeathed much of his collection to the non-profit museum. It's sited on a former car compound in an evergreen rich floodplain.

Surrounded by parking lots and the post-modernist pastiche of the village, the new museum is a departure from existing styles. But this is adopted politely, with a noted absence of anything too flashy that might call attention to the building itself.

Designed as an irregular polygon with trapezoidal tendencies – Whistlerites call it a 'hockey stick' – an exterior of black coated steel riffs on the local industrial shed/ski chalet vernacular. But its interior offers a luminescent beauty.

A simple bridge structure draws visitors in and lends a sense of procession. A triangular overhang of glass and bolted steel angled at 30 degrees southwest offers a perfectly framed mountain view, while a series of West-Coast-meets-Shoji latticed hemlock screens draws the eye to an inner courtyard. A slice of light at the top reads like a forest canopy, while a long rectangular glass corridor further blurs inside and out. Skylights draw light deep into the soft wooden interiors.

The permanent collection galleries – solely focused on British Columbia – begin with historical First Nations art and then gradually work through the likes of Emily Carr, finally juxtaposing contemporary artists like Lawrence Paul Yuxweluptun and Attila Richard Lukacs before offering highlights from the Vancouver school of photoconceptualism. The curatorial intent is largely successful; to present 'native' art in an aesthetic rather than an anthropological context and to demonstrate a unifying 'sense of place' that extends beyond ethnic boundaries. A temporary gallery boasts some of Audain's collection of Mexican modernist classics by Diego Rivera and others.

The success of the new museum seems to be riding on a kind of reverse Bilbao effect, with a gentler, anti-starchitect approach of 'build it and see if we can lure them off the slopes'. If the opening week's multitudes are any indication, the plan seems to be working.
INFORMATION
For more information, visit the Audain Art Museum's website (opens in new tab)
Photography: Martin Knowles
ADDRESS
Audain Art Museum
4350 Blackcomb Way
Whistler
British Columbia, V0N 1B4
VIEW GOOGLE MAPS (opens in new tab)