Kyoto bank transformed into sensory play area by architect Satoshi Takijiri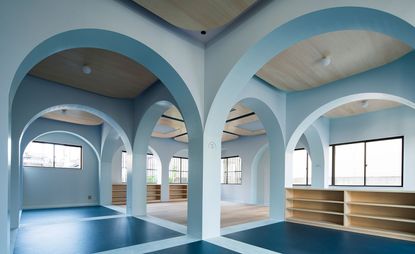 (Image credit: Kiyoshi Nishioka)
It's hard to imagine that this indoor play area for children with physical disabilities in Kyoto was once a drab bank foyer. Now, thanks to a few very simple, effective architectural tricks from Atelier Satoshi Takijiri, the 30-year-old building has been transformed into a 'forest' within a piece of architecture – a place for freedom, exploration and imagination.

Through his design, architect Satoshi Takijiri wanted to allow children who could not play outside, to feel as if they were playing outside. The interior space has been recarved with new arched walls made of basswood plywood that create subtle zoning and uplifting shapes cast in various sizes to echo the arches of leaning tree branches.
Smooth wooden flooring meets blue lineoleum, again working to divide the room, while the space remains open-plan. It was important the flooring was smooth and safe for the accessibly of children with difficulty walking, or using wheelchairs.
RELATED STORY
Smoothing off any abrupt architectural edges, the dividing walls echo and frame the existing windows of the building – which luckily had plenty of glazing to allow natural light to flood in and reveal the outside world, changing seasons and transition from morning to evening.

The cool and calming shades of the colour blue complement the shapes of the interior architecture, as do light-weight sheer curtains that sweep across the arches softening acoustics. Meanwhile low, custom-made wooden shelving is designed for storage of shoes and toys, and the architecture also incorporates hide-outs and dens for the children to discover.
INFORMATION
instagram.com/takijirisatoshi (opens in new tab)