Architecture update: Letter from Colombia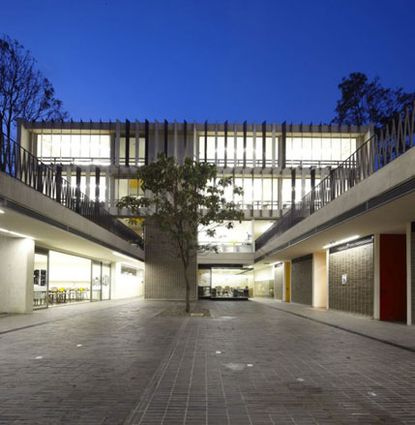 (Image credit: Andres Valbuena)
Enrique Low Murtra Building in the Gimnasio Campestre college, Bogotá, by MGP Arquitectura y Urbanismo

Enrique Low Mutra is the first new building to be completed as part of a masterplan drawn up by the MGP to modernize the installations of one of the city's most exclusive educational institutions. MGP's principal partner Felipe Gonzalez-Pacheco studied in the college's traditional buildings, which were first drawn up in 1938 by Colombian architect Alberto Bonilla. The two elevated bodies face each other across a patio in line with the school's original design. Nine new projects are due to be built between 2010 and 2022

www.mgp.com.co (opens in new tab)
As a member of the CIVETS nations - a group of emerging economies singled out for stellar growth predictions in the coming decade - Colombia has put much of its violent and painful past behind it. A new and more confident country is shaping up for a brighter future, reflected in its increasingly ambitious architecture. With security concerns moving down the agenda, education has been allowed to take centre stage in a new urban discourse propelled by thought-provoking architects like Giancarlo Mazzanti (opens in new tab), Daniel Bonilla (opens in new tab) and Felipe Uribe de Bedout. The country's most compelling work is being commissioned by institutions at both ends of the learning curve, from exclusive universities going head-to-head to brighten up their campuses to schools in the poorest of neighbourhoods.
Freed from the overpowering influence of the great master, Rogelio Salmona - who died in 2007 - modern designs have moved away from the red brick and ochre cement used by him to shape the capital's vernacular for over half a century. The city's altogether more colourful contemporary palette may not be to everyone's liking, but it strikes a chord with the upbeat vision of a country with a brilliant future ahead of it.
Filling the void left by Salmona has not been easy, however, and renowned international architects have been called on to contribute to the country's impressive image makeover. Foster + Partners (opens in new tab), Rogers Stirk Harbour + Partners (opens in new tab), Steven Holl (opens in new tab), Alonso Balaguer (opens in new tab) and Herreros Arquitectos (opens in new tab) have all been asked to play their part by drawing up a string of landmark buildings that will light up the city's skyline in the next three years.
Sports Complex, Bogotá, by MGP Arquitectura y Urbanismo

Setting the example in Colombia's higher educational circles is the ultra-exclusive University of Los Andes. Nestled against the mountains of Bogotá close to the capital's historic centre, the campus is home to works by a celebrated crop of Colombian architects. The university has invested heavily in new blocks drawn up by the likes of Daniel Bermudez and Daniel Bonilla in recent years. This plush sports complex by Felipe Gonzalez-Pacheco's team has the rest of the city's universities scrambling around for an architectural response

www.mgp.com.co (opens in new tab)
Nucleo Comfama, Parque Arvi, Medellin, by UdeB Arquitectos

A Centipede-like structure, a pre-Colombian tomb and 12m by 12m flower arrangements provide a low-impact, architectural draw for those looking to escape Medellin and submerge themselves in the local wildlife. Linked to Santo Domingo, one of the city's most deprived neighbourhoods via a 20-minute cable car trip, Felipe Uribe de Bedout drew up this environmentally sensitive project as an anchor for a 70 sq km nature reserve. Fearful of stumbling across local archaeological sites during construction, Uribe drew up flexible plans for as many as five 'centipede' structures to house visitor attractions, restaurants and accommodation. Up to four tombs will also be buried underground for educational conferences and exhibitions. As many as 30 'silleteros' - a traditional form of carrying elaborate flower arrangements - house cafés, toilets, internet access and other functions

www.felipeuribedebedout.com (opens in new tab)
Alianza Colombo Francesa, Bogotá, by Rogelio Salmona

Rogelio Salmona was a prolific architect who shaped so many of the city's finest buildings. Like much of his work, this language school - completed three years after the Franco-Colombian architect's death in 2007 - draws on his extensive investigation into the use of ochre cement and bricks. Indirect light filters into the building via windows that climb up the building following ramps that connect the floors along the building's southern face
Agora Bogotá - International Convention Centre, Bogotá, by Daniel Bermudez + Herreros Arquitectos

Bogotá's prodigal son Daniel Bermudez and his Spanish partner Herreros Arquitectos emerged victorious from one of the country's most eagerly awaited international architectural contests in August. The team beat off competition from a glittering list of international architects that included Pritzker and Stirling Prize winner Zaha Hadid (with Juan Manuel Pelaez), Diller, Scofidio + Renfro (with UdeB Arquitectos), Snohetta and Saucier Perrote Architectes. Due for completion in May 2014, Agora Bogotá will create a 25,000 sq m complex that the city hopes will put it on a par with the region's most important conference centres
Proscenio Cultural Centre, Bogotá, by Foster + Partners

The Proscenio Cultural Centre is designed to add to the cultural offering in one of the most affluent corners of the city. As well as a 1,500-seat theatre and an academy for MISI – the largest performing arts school in Latin America – the project incorporates new office, hotel and residential spaces in an adjoining building. Developers ARPRO are also working with Richard Rogers on a mixed-use scheme in the centre of the city
Bosques de la Esperanza (Forest of Hope) Sports Centre, Bogotá, by Giancarlo Mazzanti

Architect Giancarlo Mazzanti, one of Colombia's most lauded contemporary practitioners, teamed up with philanthropic pop starlet, Shakira, to create the simplest of sports centres in Altos de Cazuca. Home to approximately 50,000 people, Cazuca is one of Bogotá's most deprived neighbourhoods. Shakira's charity, the Barefoot Foundation and the Spanish Non-Government Organisation, Ayuda en Acción paid for construction. Designed to 'evoke a mass of trees as a symbol of nature, union and hope', its modular structure is such that it can be easily extended throughout the neighbourhood, says the architect. 'The idea is that it becomes a symbol so that it grows all over the poor areas and turns into a real forest.'
Edificio Terpel, Bogotá, by Rafael Esguerra and Eduardo Samper

Rafael Esguerra and Eduardo Samper - the offspring of the prolific team that built Bogotá's most iconic towers in the 1960s, Esguerra, Saenz and Samper - teamed up to carve out this contemporary office block. Exploring the use of wood to reduce the sun's impact on the building's inhabitants, the building's roof and ground-level access were landscaped to underline a more holistic approach to the work of their respective fathers
EAN University Nogal Campus, Bogotá, by Daniel Bonilla

The new Nogal Faculty of the EAN University has all the hallmarks of the striking educational interventions that have made its architect Daniel Bonilla so popular with universities and schools trying to gain the attention of Bogotá's wealthiest students. Its green brise soleils and protruding windows have drawn comparisons with Agence Bernard Buhler's colourful mixed use building in Bordeaux, Arc-en-Ciel
Originally hailing from the UK, Rainbow Blue Nelson first landed in Colombia in search of Tintinesque adventures in 1996. Subsequent forays from his Caribbean base in Cartagena have thrown up a book about Pablo Escobar, and the Wallpaper* City Guides for Santiago, Brasilia, Bogota and Miami. Currently completing a second book about Colombia whilst re-wilding 50 hectares of tropical rainforest on the country's Caribbean coast, he's interviewed some of South America's most influential figures in art, design and architecture for Wallpaper* and other international publications.