Architecture Drawing Prize 2022 awarded to rich visualisation that challenges stereotypes
The Architecture Drawing Prize 2022 has been awarded to Samuel Wen and Michael Ren for their hybrid artwork, 'Fitzroy Food Institute'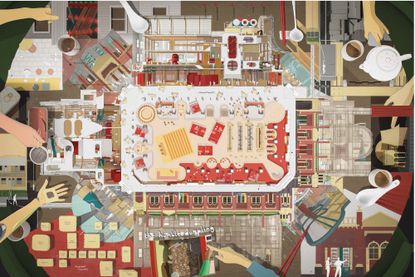 (Image credit: Courtesy the Artist and the Architecture Drawing Prize)
A combination of render work and hand-drawn imagery, the Architecture Drawing Prize 2022's winning piece, Fitzroy Food Institute, is the result of two architectural minds put together to explore assumptions about their culture. 'The broader intention of the drawing was to use architecture to challenge traditional oriental stereotypes about our Chinese heritage,' says Wen, one half of the winning team and currently a student architect at Cox Architecture, on the aims of the work.
There are three categories for the annual prize: hand-drawn, digital and hybrid, with one winner in each category, as well as one overall winner. Anton Markus Pasing was awarded the digital prize for The Wall, a 'golden elevation,' as described by Pasing, and offers an abstract grid of architectural diagrams. Elsewhere, Weicheng Ye was awarded the winning slot for his eerie construction of geometric lines and natural forms in The Spirit of Mountain.
Architecture Drawing Prize 2022
Fitzroy Food Institute, which was winner of both the hybrid category and the overall winner, depicts a heavily detailed, cartoon-like dystopia, where a view of a 'dumpling institute' works to challenge stereotypes of Chinese culture. The image comprises an aerial view plan, two sections, two elevations, four further views, one detail and two call-outs, around a traditional round table Chinese dining setup. According to Ken Shuttleworth, founder of Make Architects and one of the Prize's judges, it's both accessible and 'full of architectural interest, featuring not only a plan, but sections and elevations as well as detail.'
Next week sees the launch of a dedicated show at Sir John Soane's Museum, presenting the winning pieces. The exhibition's curator, Erin McKellar, highlights the combination of composite architectural drawings and elements of Chinese culture, and the way in which 'the result is very dynamic. The drawing really gives us a sense of the activity that goes on within the Institute.'
Ren, who is a designer, educator, and architecture student, comments that being able to utilise both his and Wen's creative strengths and 'incorporating both methods of representation [allowed them to] acknowledge a post-digital era in architectural visualisation.'
Now in its sixth year, the Architecture Drawing Prize is a melting pot of contributions from architectural and creative bodies. It is led by Italian ceramics makers Iris Ceramica Group and created collaboratively by Sir John Soane's Museum, Make Architects, and the World Architectural Festival. It works to celebrate the communication of design projects, born from creative, conceptual and planning intentions.
McKellar pulls our attention towards the ways in which the pieces draw lines between different spheres. Memory also appears as a recurring theme in some pieces, which 'draw from their creators' pasts, resulting in drawings which tell stories.'
The Architecture Drawing Prize exhibition is showing from 8 February to 7 May 2023 at Sir John Soane's Museum, 13 Lincoln's Inn Fields, London, WC2A 3BP
Martha Elliott is the Junior Digital News Editor at Wallpaper*. After graduating from university she worked in arts-based behavioural therapy, then embarked on a career in journalism, joining Wallpaper* at the start of 2022. She reports on art, design and architecture, as well as covering regular news stories across all channels.