Architects Directory 2020: DF_DC, Switzerland and UK
With offices in Lugano and London and ongoing projects in the UK, Switzerland, Mexico, France, Italy and Mozambique, this architecture practice likes to favour an interdisciplinary approach. Founders Dario Franchini and Diego Calderon recently completed a concrete villa in Comano, in an elongated plot, previously occupied by vineyards, which informed the structure's trapezoidal form.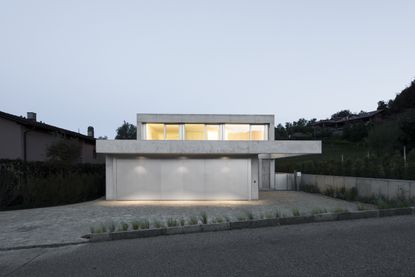 (Image credit: Giorgio Marafioti)
In a bid to capitalise on the potential opportunities created by the UK's exit from the European Union, Swiss architects Dario Franchini and Diego Calderon recently moved their DF_DC practice from Lugano to London. But with current, on-going projects including a 324-home scheme in the city of Bellinzona, the bulk of the young partners' work is still back home in Switzerland.

The Concrete Villa, is situated in the Comano hills, a small village north of Lugano on a site previously occupied by vineyards. All sci-fi colonnades, in-situ cast fins and sweeping, Eileen Gray-esque staircases, the house is, say the architects, 'characterised by an elongated trapezoid form which determines the volume'.
MORE FROM WALLPAPER* ARCHITECTS DIRECTORY 2020 (opens in new tab)
'With the constraint of having adjacent houses in close proximity toward the north and south, the house is conceived as an inhabited wall,' they explain. 'In order to avoid the effect of an excessively long and closed volume but also ensuring a level of privacy, the flank elevations are articulated by a series of deep rectangular fins.'

Which particular aggregate does The Concrete Villa's elegant and elaborate construction employ? Franchini and Calderon chose the old, tried and tested 'strollato' technique as used in traditional Lombard villas: a mix of pebbles and cement, hand applied, splatter style with a trowel and then sanded and graded to smoothness using modern industrial machinery.
INFORMATION
df-dc.co.uk (opens in new tab)