Architect Mia Hägg collaborates with Atelier Jean Nouvel in Bordeaux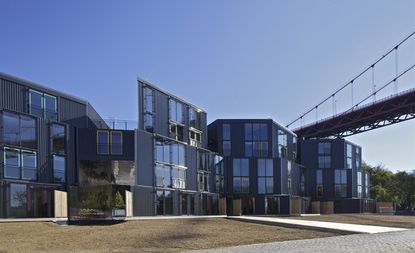 (Image credit: Philippe Ruault)
Swedish architect Mia Hägg worked with Atelier Jean Nouvel, and later as an associate with Herzog & de Meuron, on big projects like the Olympic Stadium in Beijing before setting up her own Paris- and Locarno-based practice in 2007. Hägg named her firm 'Habiter Autrement', hinting at her desire to explore the field of public housing and quality urban dwelling. Her latest work, a collaboration with Atelier Jean Nouvel (for which Habiter Autrement acted as the lead architects), is three social housing developments in Bordeaux, France; the award-winning Lormont, Armagnac and Cenon buildings.
We caught up with Hägg to find out more about the projects.

The amount of space in the Bordeaux housing you designed with Jean Nouvel is striking. How important was size in your design?
It is the measurable difference. These flats are 50 percent (or more) larger than usual. For us, space was the first luxury, then we had simple façade materials and interiors. When you look at public housing today, you have this strict brief that you need an entrance hall, a corridor, a separate kitchen and eating area. Everything becomes compartmentalised. We worked with open lofts and tried to find new ways of dividing the space.
How did the different environments in Bordeaux inspire your design decisions?
In the competition brief they asked for one type of apartment that could adapt to every site. We did the opposite. We started with the site every time, then developed a typology that enhanced it in some way. In Armagnac it was an old industrial site, so we decided to make it like New York lofts with roof terraces. Instead of walls, we worked with cheaply built wooden furniture, which becomes partitions. Lormont was a reaction to the existing master plan. They had made parallel bars, so that instead of looking at the river, everyone looked at their neighbours. It was crazy. We developed a saw shape to maximise views. And you have a cinematographic view of the bridge, like a low-angle shot.
Does your emphasis on light have to do with where you grew up?
I cannot sit inside in good conscience when it's sunny outside because I grew up in northern Sweden near the polar circle. I think that in Sweden you are extremely conscious about the sun, about natural light, probably more than when you grow up somewhere with abundant light.
Please talk to us a bit about your collaboration with Jean Nouvel.
I know him so well, he's somebody who's extremely fast, he doesn't need to spend lots of time on something before he gets a clear idea of what he wants to do. I was lead architect, so the whole production was done in my office. Then we had brainstorming sessions together and discussed certain key issues. We share the basic idea that a project should always be a mutation of something that's already there - the built context or landscape. And he's one of the few 'star' architects interested in the question of social housing.
What else are you working on?
I have a housing project under construction in Paris. The space is not as generous as in Bordeaux but we decided to make double-height loft apartments. And we are working on a stadium with a green roof in Spain. It's on hold but I would like to see it happen.
What do you like about collaborating?
It's only by balancing your ideas with someone that you really get further, and start to question what you're doing. We often bring in people from other domains: artists, sociologists, climate consultants.
How has the global financial crisis affected your work?
I really chose the worst time (laughs). I set up this project, won this competition, then everything collapsed in 2008. But I wanted my own company. When you work in these highly competitive, high-performing offices, the average age is low, and if you want to develop your own thinking, you have to move on. It was not the right time if you look at the economic situation, but it was the right time for me.
Receive our daily digest of inspiration, escapism and design stories from around the world direct to your inbox