Alserkal Avenue reveals plans for Dubai's first building by Rem Koolhaas' OMA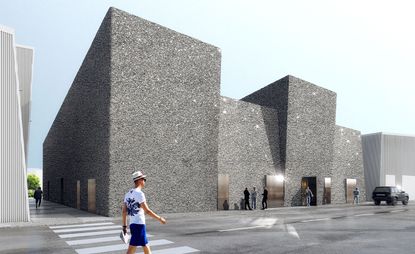 (Image credit: Photography courtesy Alserkal Avenue)
Dubai's leading creative hub Alserkal Avenue revealed plans for the United Arab Emirates' first building by Office for Metropolitan Architecture (OMA) at Dubai Art Week, held between 14–19 March. The 1,000 sq m project is a multi-purpose venue, set to transform four warehouses on the avenue into an event and project space. With concrete spray Bauhaus-inspired looks, the building fuses the industrial and cultural features of the neighbourhood.

The proposal has a full-height transparent sliding door structure, similar to OMA's Garage Museum of Contemporary Art in Moscow, completed last year. Inside, eight sliding doors allow for a flexible use of space. The completed space is set to open in autumn 2016; Alserkal Avenue, like OMA, is dedicated to the artist's stronger involvement in community life. The vision for the new cultural hub has always been to build a home for creative industries.

'We selected OMA to design our new project space because they share our commitment to bold ideas and experimentation,' explains Abdelmonem Bin Eisa Alserkal, the founder of Alserkal Avenue, which has been running since 2007.

Vilma Jurkute, director of Alserkal Avenue, hopes that the involvement of OMA will foster more international attention and collaborations with the Dubai art scene. Jurkute states that the space 'will offer a new opportunity to facilitate a closer dialogue between East and West while strengthening the infrastructure for the arts locally'.

Pritzker Prize-winner Rem Koolhaas's OMA has a wide portfolio of cultural projects including Seoul's Leeum, Samsung Museum of Arts; the Taipei Performing Arts Centre in Taiwan; Moscow's Garage Museum of Contemporary Art; the Musée National des Beaux-Arts du Québec; and Faena Arts Centre in Miami, opening imminently.
INFORMATION
For more information, visit the Alserkal Avenue website
Photography courtesy Alserkal Avenue